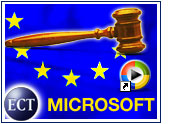 The European Union has issued a scathing denouncement of Microsoft's business practices, levied a record fine of just under US$612 million and ordered a stripped-down version of Windows to be made available within 90 days.
"Ongoing abuses act as a brake on innovation and harm the competitive process and consumers, who ultimately end up with less choice and facing higher prices," EU Competition Commissioner Mario Monti said in a statement.
Off to Court
In response to the ruling, Microsoft formally announced its intention to appeal to the EU Court of First Instance in Luxembourg. The company also issued a statement saying its proposed settlement would have done more for consumers and competitors than the commission's proposed sanctions.
The requirement that Microsoft strip out its media player from Windows would "decrease functionality and limit technology integration" that research shows consumers want, the company said.
"We respect the Commission's authority, but we believe that our settlement offer from last week would have offered far more choices and benefits to consumers," Microsoft CEO Steve Ballmer said. The company made overtures to the commission about reopening settlement talks as well, saying it looks "forward to the possibility of continuing these discussions as this case moves forward."
Openings for Rivals
Analysts said that even though Microsoft's appeals will delay any changes, the ruling could help create opportunities for the company's competitors.
Longtime foe and critic Sun Microsystems, which helped spark the EU inquiry when it filed a complaint in 1998, was quick to back the EU's precedent-setting decision, saying it welcomes the mandate for Microsoft to share its code to help other companies create server software that works well with Windows.
"We look forward to participating in an exciting period of innovation," Sun's vice president of legal affairs, Lee Patch, said in a statement. "This decision is important for consumers, not only in Europe, but also for increased innovation and competition worldwide. For the first time in many years, IT managers will be able to choose from a variety of workgroup servers, confident that they will interoperate with Microsoft desktops."
Sunny Outlook
IDC analyst Jean Bozman told the E-Commerce Times that Sun and others that sell servers to corporations that run Windows — in other words, the bulk of European enterprises — could benefit if the commission's sanctions stand up in court.
Sun's argument against Microsoft has been that its servers have been squeezed out of the market because Microsoft has made it difficult for them to work with desktop Windows installations.
"To the extent that interoperability can be improved, that allows Sun and others to use pricing and their other innovations, such as how they sell and support software, to make some headway," Bozman added.
In the Long Run
However, Forrester Research analyst Paul Jackson said the solution the commission wants to impose, while it could provide a short-term boost to competitors, actually might help Microsoft's bundled products shine in comparison.
"Once Longhorn hits, consumers will be able to choose a platform that's been designed to be integrated and work seamlessly or a patchwork of solutions that might not be as smooth," Jackson told the E-Commerce Times. "The vast majority of consumers are going to choose the product that works the best — the one that's most integrated."