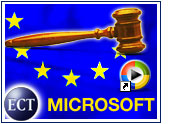 Last-ditch efforts by high-ranking Microsoft executives to negotiate a settlement with European Union antitrust regulators apparently have fallen short, and the clock is now ticking toward a March 24th decision by regulators about what penalties to slap on the software giant.
Microsoft had been in negotiations with the EU for some time, with company president Steve Ballmer joining negotiations during the past week.
In a statement, EU Competition Commissioner Mario Monti said no final agreement could be achieved.
"I therefore intend to propose to my colleagues in the Commission next Wednesday to adopt a decision, which has already received the unanimous backing of member states," Monti said.
Rough Road Ahead
The EU has been investigating Microsoft for nearly five years on grounds similar to those that sparked a lengthy battle with U.S. antitrust regulators. After a court found Microsoft had acted in a manner that stifled competition, the company was eventually able to negotiate a controversial settlement to remain intact.
The EU decision likely will set up a court battle. Most observers say the stiffness of the penalties will be a hint as to how strongly the EU feels about its case against Microsoft.
Some have speculated that in addition to being forced to offer a stripped-down version of Windows that does not contain Windows Media Player, Microsoft could face hefty fines that could reach US$3 billion or more.
Common Ground
Putting a positive spin on the talks — and perhaps bracing investors for the worst — Microsoft issued a statement of its own Thursday, saying it did all it could to find common ground with the regulators.
In the statement, Microsoft said the two sides negotiated "virtually nonstop for the past several months" and agreed on the issues "of the case" but could not agree on "principles for new issues that could arise in the future."
"I hope that perhaps we can still settle the case at a later stage," Ballmer said.
Microsoft counsel Brad Smith said Microsoft wanted to protect the rights of consumers to have access to new features that may be added to Windows in the future. "Consumers must be part of the equation," Smith said. "Perhaps the courts will provide the clarity that is necessary to resolve these issues."
Stripped Down
One likely sticking point was the demand by the EU to strip out Windows Media Player, which analysts say is a key tool for Microsoft to win a share of the home entertainment market for PCs.
Microsoft was said to be willing to share some of its code with server makers, even though it traditionally has been extremely guarded with its code and in fact has said it would vigorously pursue all possible criminal and civil penalties against those responsible for a recent leak of the code onto the Web.
Gartner analyst David Smith told the E-Commerce Times that even the harshest penalties from the EU will not put much of a dent in Microsoft's market position in Europe or around the world.
"They've already accounted for the fine in their budgets and have plenty of cash to offset it with," Smith said. "Having to offer two versions of Windows isn't much of a change from the current system" where computer makers can install alternatives to Microsoft's media player.
No Harm, No Foul
Smith noted that Microsoft's claims that removing Windows Media Player would harm other Windows features is similar to the claim it made during the U.S. antitrust trial about its browser — a claim that many people, including the judge hearing the case, felt was disproved during court proceedings.
However, Yankee Group analyst Laura DiDio told the E-Commerce Times that so much of Microsoft's long-range strategy has hinged upon the media player working as an integral part of the operating system that it is unlikely to concede that point in negotiations or in court.
"So much of what they've done has been designed to make the media player the focus of the operating system," DiDio said. "They are more likely to tell a court they'll accept other penalties before they're willing to do that."
"Microsoft spent a lot of time and effort to get its media player front and center in the market," Smith added. "But as long as they protect their core business, this ruling won't adversely affect them in the long run."
News of the breakdown in talks did little to harm Microsoft's stock, which was down about 1 percent in Thursday morning trading at US$24.80.