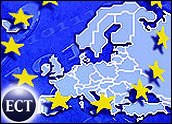 The European Union (EU) announced Friday it has reached an ambitious agreement to increase the use of renewable energy to 20 percent of all energy usage by 2020. The EU also agreed to cut greenhouse gas emissions by 20 percent in relation to 1990 levels over the next 13 years.
The objective is to combat global warming and lead the world in renewable energy innovation.
EU Council President Angela Merkel says the goals are important because renewable energy "means a boost in innovation for Europe," and that the EU is about to embark on a new path "where we must advance scientific and technological development."
She stressed the importance of EU nations playing their parts as exporters of such technologies for the future.
The EU also reached agreements on other targets, such as increasing energy efficiency by 20 percent and using a minimum biofuel content of 10 percent in fuels.
Plans involve increasing the usage of renewable energies such as wind, water and solar power, and attempts to make energy usage more efficient — for example, by working to eliminate the use of energy-hungry incandescent bulbs.
Problems Abound
While the move is laudable, it's also rife with potential problems.
The first question comes down to figuring out how much each of the 27 member states will contribute to the goals.
Some countries, for instance, have a larger reliance on fossil fuels than others, so a 20 percent reduction in emissions might be negotiated down in some case. This means other countries would have to pick up the slack to meet the overall EU goal.
Actual implementation of the EU's goals will likely be a hot topic of debate behind closed doors.
Energy and the Economy
"When the rubber hits the road is when they have to implement plans that force people — and that's what it is, forcing industries — to reduce energy use. Technologies do not exist to separate energy use from economic growth," H. Sterling Burnett, a senior fellow with the National Center for Policy Analysis, told the E-Commerce Times.
"If you check our recent history, when our emissions declined in the U.S., it was during the of recession of 2000 and 2001," he said. "And they started going up again as soon as the economy started up again. The same thing is going on in the EU — their economy is humming again and their emissions are up again," he added.
The challenge may be particularly problematic in countries that aren't willing to sacrifice economic growth for more environmentally friendly energy.
Where Does Biofuel Come From?
The problem with forcing countries to include 10 percent biofuel in all fuels is that "there is no specification of any kind of conditions of where those bio fuels come from," James Wilson, author of the UK-based Alternative Energy Blog, told the E-Commerce Times. "There won't be any way for them to regulate how they accept biofuels … and that can result in a big increase in carbon emissions."
For instance, some biofuels are grown and created in ways that generate more emissions and energy use than traditional fuels. The production of palm oil in Indonesia and Malaysia, for example, may actually wreak havoc on the environment there. The expansion of palm oil plantations by burning natural land can in itself release enormous amounts of carbon dioxide.
In addition, "biofuels very much rely on internal combustion engines," Wilson noted. "And biofuels tie us to the existing technology rather than innovation in electric vehicles."
China's Emissions
In fact, the EU's emissions goals might not change anything, Burnett said. "I don't care what the EU, the U.S., and the developed world does," he said. "We can shut off industrial civilization tomorrow — we can turn off our lights — and all these sacrifices are going to do nothing for the climate because China, as recently as last week, said, 'We don't have goals to cut emissions; we will have emissions growth.'"
When Burnett started working in the energy field eight years ago, he said, experts were talking about China surpassing the U.S. in emissions in 2020. "Just last year, they were talking about China surpassing the U.S. in 2010," he continued. "Just last week they announced that China may surpass the U.S. this year or next year because China has not been counting all of their emissions. … And China is not going to shut down its growth."
There are, however, signs of hope.
"Overall, the target of 20 percent [renewable energy use] by 2020 … it's obviously a good thing that targets are being set, and it's not overly ambitious," Wilson noted. "Here in the UK, I believe we're already up to 8 or 9 percent, and countries like Spain are already up to 20 percent and is actually aiming for 40 percent."