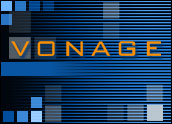 Internet phone service provider Vonage on Thursday was ordered to pay Verizon US$58 million after a jury found it infringed on three patents owned by telecom giant Verizon Communications.
The award against Vonage covers both penalties and a percentage of subscriber revenue — royalty payments to Verizon for use of the disputed technology. Vonage is also facing a possible injunction to cease using Verizon's technology.
Though Vonage was cleared of wrongdoing on four of the seven counts it faced — and the financial penalty was a fraction of what Verizon was seeking — the stakes remain high for Vonage. The trial lasted one week.
Attention now turns to a hearing scheduled for later this month, in which Verizon will ask for an injunction ordering Vonage to stop using the infringing technology. If granted, the injunction could force Vonage to shut down its service unless it can quickly implement a work-around.
Seeking to reassure its customers, Vonage said it would appeal the ruling and that it would immediately seek a stay against injunctions.
Verizon originally claimed that seven patents have been infringed and the jury found the infringement was not "willful," Vonage noted.
Vonage shares were hammered after word of the verdict in the closely watched case reached Wall Street — the stock was off more than 15 percent in morning trading Friday to $4.12, a new yearly low for the stock, which has struggled since debuting in an IPO last summer.
One Suit, Two Sides
In addition to the $58 million one-time payment, Vonage was ordered to pay royalties equivalent to 5.5 percent of its monthly subscription fees from each user.
Though the penalties could have been much worse — Verizon was originally seeking close to $200 million in damages and fees — Vonage is already struggling for profitability and the payments could hurt that effort.
Whereas Vonage brings in an average of $29 per month from each subscriber, it spends more than $8 per month per customer to maintain and grow its network, meaning the new fee would represent a 20 percent increase in costs. Vonage may spend a similar amount on marketing its services.
Vonage Will Appeal
The patents in question cover "methods of offering commercial quality VoIP services, including wireless access to VoIP," said John Thorne, Verizon senior vice president and deputy general counsel.
"We are proud of our inventors and pleased the jury stood up for the legal protections they deserve," he said.
Vonage plans to appeal the jury's decision and it expects to prevail, the company said. The firm also noted that the award of $58 million plus royalties represents a 70 percent reduction from the original $197 million sought by Verizon.
If the injunction was granted, Vonage said it would "seek an immediate stay" from an appeal. "Vonage's customers should see no change to any aspect of their phone service," the company said.
Fighting Back
With seven patents in dispute, "the fact that some of them stuck is not too surprising," John Rabena, an intellectual property attorney and partner at Sughrue Mion, told the E-Commerce Times.
Although the bar has been raised to make injunctions more difficult to obtain, recent court cases seem to favor injunctions in instances of competing firms. "Verizon is not huge in this area, but they are a competitor," he noted.
Even though Vonage has pledged to appeal, an injunction could be in place during the two years it might take for the case to be heard and decided. "It's difficult to reenter a market if you've been out of it for two years," Rabena added.
Vonage is already facing a patent-infringement suit from Sprint Nextel, which also concerns seven patents. That suit will be heard this fall, but the Verizon decision may compel Vonage to seek an out-of-court settlement instead — should it prevail in the suit, Sprint would likely request an injunction.
Meanwhile, speculation that Vonage will be bought ramped up again as its stock market value plunged. Analysts say the firm might be most valuable to a traditional carrier that has not yet found traction for its VoIP offering, a short list that, ironically, could include Verizon.