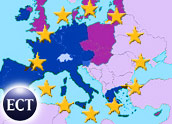 Regulators from the European Union (EU) have given their blessing for a plan by Intel and STMicroelectronics to spin off and combine their respective flash memory chip units.
The proposal, which also calls for a major cash infusion from a private equity firm, would not pose an unfair risk to competition in the robust flash memory market, the EU said. A number of competitors exist in the markets for both NAND flash — which retains data after power to a device is shut off and is used in digital cameras, the Apple iPod and other gadgets — and NOR flash, used in phones and other electronics to store and retrieve software applications.
"The commission found that strong competitors are present for each of these products, and that customers would be able to continue sourcing their needs from a sufficient number of alternative vendors," the EU said.
The two companies announced in May they would separate their flash businesses and sell them to a stand-alone company. Last month, the two companies said they would call the new venture Numonyx.
Intel will own 45.1 percent of the firm, Switzerland-based STMicro will own 48.6 percent and Francisco Partners, a private equity firm based in Menlo Park, Calif., will gain a 6.3 percent ownership stake in exchange for a US$150 million cash infusion.
Tough Sledding
The companies had argued to the EU that their merger would not create an overbearing competitor in the flash market, which is expected to generate close to $9 billion in sales this year. Together, Intel and STMicro generated around $3.5 billion in flash-chip sales in 2006 though a significant part of that came from joint ventures that both companies run — Intel with Micron Technology and STMicro in partnership with Hynix Semiconductor.
Other major flash producers include SanDisk and Spansion as well as a slew of smaller, niche players.
Both Intel and STMicro will get onetime windfalls from the merger plan, with Intel set to receive $432 million and STMicro around $468 million. Perhaps even more important is the chance for the companies to focus on more profitable lines of business. Intel, for one, has been moving away from flash for some time and the flash unit has long been a source of red ink. Intel lost $283 million on sales of $469 million in the first quarter of 2007.
The companies believe the standalone company can find more efficient ways to produce flash and find new markets in the rapidly growing list of devices that rely on flash to store data and programs.
The flash memory is expected to remain a challenging on for the next few years, Gartner analyst Richard Gordon told the E-Commerce Times, with an abundance of the technology helping to make it a commodity with shrinking profit margins. Many technology firms that use NOR flash, meanwhile, are embracing phase change memory, or PCM, as an alternative. That, plus slowing growth in some parts of the flash market — Apple has reportedly been mulling whether to cut production of the iPod, for instance — helped convince the companies it was time to seek a strategic alternative.
The move impacts many device makers, who often used the two firms to provide flash, ensuring a consistent supply as well as price competition, though many will turn to other flash producers, such as Samsung, to fill that void, Gordon added.
Patent Pondering
The combined firm does bring a hefty amount of intellectual property to bear on the flash memory market and could well move into other technologies, Objective Analysis Principal Analyst Jim Handy told the E-Commerce Times.
Together, Intel and STMicro hold around 2,500 patents and have another 1,000 pending, he said. STMicro is also likely to have some of its underused chip fabrication facilities pressed into service by the new venture, with the companies likely looking to roll out products that leap ahead of those from rivals in short order.
The new venture will likely need to reduce the size of its flash chips over time not only to keep pace with competitors but also to achieve the profitability as a combined venture that has eluded each company on its own.
"The joint ventures with Hynix that both companies now have become more important," Handy added, with that company able to use high-output plants in China to produce low-cost chips.