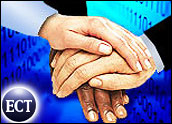 Tapping deeper into one of the fastest-growing segments of the memory chip market, Intel has joined with STMicroelectronics and a private equity firm to establish a new flash memory company.
The two chipmakers entered into the agreement to combine existing assets of businesses that last year generated US$3.6 billion in revenue, the companies said Tuesday. The new venture will focus on supplying flash memory solutions for a variety of consumer and industrial devices, from mobile phones to MP3 players, digital cameras to PCs.
The deal calls for both ST and Intel to sell their flash-related assets and operations to the new venture. In exchange, Intel will receive a 45.1 percent ownership stake in the new company along with a one-time payment of $432 million; ST will own 48.6 percent of the venture and receive $468 million in cash. The third partner, Francisco Partners, a Menlo Park, Calif.-based private equity firm, will invest $150 million in cash into the venture and receive the remaining 6.3 percent ownership stake.
Getting It Off the Ground
The three parties have arranged for the new venture to receive a $1.3 billion loan and $250 million in additional funds, which will be used to make the payments and to get the company off the ground.
The venture will vault to the top of the flash memory production business in terms of revenue, ahead of other major players such as SanDisk and Spansion.
The new company will have the size and technology to "meet the needs of customers requiring leading-edge products in this highly competitive marketplace," said Intel CEO Paul Otellini.
Flash memory has experienced dramatic growth in recent years — it is found in so many consumer electronics and has become favored over the hard disk for storing data in small spaces. While Intel is a player in the space, other chipmakers have been more successful to date at moving from the PC niche into consumer electronics.
Combining Forces
The new company, which apparently is yet to be named, will be based in Switzerland and operate nine research and manufacturing facilities around the world. It will have approximately 8,000 employees and be run by CEO-designate Brian Harrison, currently an Intel executive, and COO-designate Mario Licciardello, who is now a vice president with ST's Flash group.
Intel shares edged modestly higher on the news, rising about a half a percent to $22.75. The U.S.-traded shares of Switzerland-based STM, meanwhile, were up 2.4 percent to $20.34.
Despite rapid growth in the overall market, both companies have seen their flash businesses lose ground and struggle to attain and retain profitability, largely due to fierce pricing competition in the flash market. Both companies had 10 percent sales declines in the first quarter compared to the previous quarter, according to iSuppli.
Intel had been edging away from direct involvement in the flash business — in large part because of the pressure it put on profit margins. It struck a deal to have Micron produce its NAND flash products and was known to be exploring options for its NOR flash business since last year, as it racked up three straight years of financial losses.
Intel's flash business lost $283 million in the first quarter on sales of $469 million.
The Memory Chip Market
NOR flash — often used to store and retrieve software applications in portable devices — has seen slowing growth as the mobile phone market matured and as makers of NAND flash moved into the same turf, developing technologies that enabled their chips to be used in mobile devices as well, Gartner analyst Richard Gordon told the E-Commerce Times.
Overall, the market for memory chips — which included dynamic random access memory chips, or DRAM, as well as the two types of flash — will grow by more than 20 percent this year, well outpacing the rate of expansion for the chip market in general, Gartner predicts.
Still, pricing pressures helped decrease the rate of growth in the flash sector, where average selling prices declined during 2006, despite rapid growth of end uses such as iPods and mobile phones with built-in cameras and other flash-dependent technologies, Gordon said. "Prices have declined further than expected as competition has intensified," he added.
Better Days Ahead?
STMicroelectronics had previously signaled its intention to divest itself of its flash business, and analysts have long expected Intel — which last year sold off its mobile chip line — to move away from the flash business, which is eating into profits from other business lines.
With their brand names and customer bases, the companies may be able to position the joint venture for success. Meanwhile, flash memory will become increasingly common in portable PCs.
Falling prices for NAND flash will make its use in PCs more viable. By the end of 2009, iSuppli predicts that more than half of all PCs will utilize flash drives, which are favored for their improved reliability and faster speeds than traditional hard drives, iSuppli analyst Matthew Wilkins told the E-Commerce Times.
The joint venture announcement came a day after Intel met with investors and analysts to discuss its future product road map and other initiatives. Many analysts came out of the meeting predicting Intel would regain its dominant, 85 percent market share levels soon as it responded to incursions from No. 2 chipmaker AMD.
"Intel's product road map and ability to respond competitively to AMD are far more robust than the market appreciates," Merrill Lynch analyst Joe Osha wrote in a research note. Divesting itself of its flash business will help Intel focus on its core processor line, he added.