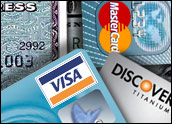 Continuing to garner a reputation as a fierce regulatory watchdog ready to take on major industries, the European Commission said major credit cards are charging excessive fees to both businesses and consumers.
The Commission, which handles regulation for the European Union, issued a report saying banks are able to realize "abnormal" and "excessive" profits when consumers use credit and debit cards from the likes of MasterCard and Visa.
Looming Antitrust Regulations
"Paradise is over," Commissioner Neelie Kroes said Wednesday in a speech following release of the report, which gives the industry a 10-week window to propose changes before antitrust investigations are undertaken. "The more the payment card industry does on its own initiative, the less it is likely to face action under antitrust rules."
The report said barriers to entry to the card business are high and that companies have not moved to take advantage of the lowering of national boundaries made possible by the European Union. Banks, for instance, should be able to offer cards across multiple jurisdictions, the EC argues.
Under the current approach, consumer fees in some countries are as much as twice as high as those in others and the menu of fees also varies and includes many fees levied directly on consumers, such as annual membership fees, usage fees and even fees to check account balances between billing periods.
The variation is even larger for businesses, with fees paid to process payment varying by as much as 650 percent among various EU nations, various industries and card providers. In addition to Visa and MasterCard, the Diner's Club card, which is owned by CitiGroup, was examined in the report.
Time Will Tell
The fee variations are often "not justified by transaction costs," Kroes said, suggesting that banks do not face "enough market pressure" on pricing because they "collectively set fees that tax businesses and ultimately all consumers for every card payment."
The report said retail price hikes of as much as 2.5 percent are caused by high credit card levies.
The card industry indicated it would take its time in responding. MasterCard issued a statement saying it was in the process of "studying this lengthy report and will be responding with comments within the commission's required deadline" of 10 weeks, or by early July.
"MasterCard has always been committed to an open and competitive single market for card payments in Europe, which underpins the position of the European Commission," the U.S.-based company said.
Visa Europe issued a statement saying it also supported a one-market approach and that it has actually lowered the fees that banks pay each other when money is transferred from credit payments in recent years.
"Existing differentials between member states reflect numerous factors including level of market maturity, market size and the nature of different products in different countries," Visa said.
Common Complaint
The European Commission has taken an active and sometimes aggressive role in several economic sectors, taking a hard-line stance against Microsoft, for example, even to the point of warning it about its upcoming Windows Vista release before it hits the market. Microsoft has accused the EU of colluding with the software maker's rivals to stir up anti-trust charges against it.
The EC is likely to find plenty of support for its campaign against credit and debit card fees, with a somewhat unlikely alliance that includes large and business owners as well as consumers.
Analysts said the EU's push will not necessarily benefit U.S. consumers or even have much relevance in the North American market, where there is somewhat more competition among card companies.
"Once again, the EC is giving notice that it intends to be aggressive against any flavor of anti-trust issue it sees," Center for European Reform analyst Katinka Barysch said. "How this unfolds will depend quite a bit on how the credit industry responds."