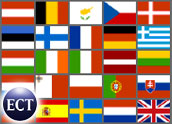 The European Union's 27 telecommunications ministers came to an agreement on planned regulations to reduce mobile phone roaming fees Thursday. The announcement came after an informal meeting at this year's CeBIT technology trade show held in Hannover, Germany. The EU ministers said they want to see an EU regulation passed by the start of summer.
"Every effort should be made to successfully conclude the legislative process on the reduction of roaming tariffs by the end of the first half of 2007," said the European Council, which includes the 27 heads of state or government as well as the president of the European Commission.
The European Parliament will take up the matter in May and may lower roaming fees for Europeans by some 70 percent. If passed, the new law reportedly could take effect by early July.
"A political agreement on an ambitious reduction of roaming tariffs by summer is now within reach," said Vivian Reding, EU Telecom commissioner. "I call on all ministers and parliamentarians currently working on the Roaming Regulation proposed by the European Commission last July to listen more to consumers and less to the industry lobbyists. All citizens in the EU should be able to judge in July how effective the work of their ministers and the parliamentarians has been."
Sky-High Charges
The battle for lower roaming fees came to a head in July 2006 when the European Commission proposed a regulation to reduce the charges consumers paid to use their mobile phone outside of their home country. After several years of consumer warnings and calls for the mobile phone industry to self-regulate seeing only limited results, the Commission said its purpose was to ensure that charges paid by European consumers were "not unjustifiably higher than those they pay for calling within their own country," according to the European Union Commission.
Retail roaming fees are some four times higher than domestic charges, according to the Commission. For instance, a local call in Poland is about 0.19 euros (25 US cents) a minute. However, a German user who crosses the border to Poland can expect to pay from between 0.34 euros to 2.56 euros ($.45 to $3.41) per minute for the same local call. On average, EU citizens pay 1.15 euros ($1.53) per minute, five times more than the cost of providing the service wholesale. The extremely high international mobile roaming charges affect a minimum of 147 million EU citizens, 110 million business users and 37 million tourists.
"Roaming rates are certainly perceived by both customers and the EU to be unnecessarily and unfairly high in Europe, particularly in light of the high degree of competition and the resulting price erosion that has been achieved in domestic charges over the last five years," Declan Lonergan, director of consumer research mobility for Yankee Group, told the E-Commerce Times.
Mobile phone operators are, Lonegran said, clearly not in favor of the legislation. They argue that roaming charges have declined in recent years and that price levels should be determined by the market and competitive forces.
In a February 2007 press release, the GSM Association, the global trade association for mobile phone operators, found that the European mobile phone industry's roaming retail price index showed the cost of making and receiving calls while traveling fell about 25 percent in 2006. The decline was the result of a drop of about 0.2 euros ($0.28) in-per minute charges for roaming calls, from 0.83 euros ($1.11) to 0.62 euros ($0.83).
The association said the continued decline is being driven by a range of innovative tariff plans for ordinary customers, which would become illegal under the EC's proposed legislation.
"A decline of 25 percent in retail prices during 2006 shows that the market is meeting the demands for lower prices and delivering increasingly good value for all kinds of consumers," Tom Phillips, chief government and regulatory affairs officer at the GSM Association, said. "These price declines are in line with the objective of the European Commission to cut the price of roaming calls, which was put forward a year ago, proving that regulation, especially of the retail market, is unnecessary."
Legislative Finagling
The legislation seeks to address the problem through a multi-pronged approach. First, it would cap the wholesale charges mobile phone operators (MPOs) charge each other for carrying calls from foreign networks. In addition, a cap would also be imposed at the retail level. MPOs would be able to add a retail markup of up to 30 percent, the margin MPOs are allowed to make with domestic phone calls. The retail markup would apply to incoming and outgoing calls made while roaming.
Finally, to improve the transparency of roaming charges for consumers, MPOs would be required to fully disclose to customers information on applicable roaming charges when they sign up for a new subscription and keep them up-to-date about any alterations or the current level of charges. A team of national regulators would also begin to closely monitor "the development of roaming charges for SMS and multi-media message services."
The legislation will have an "immediate negative impact" on MPOs' top and bottom lines despite the fact that the industry and investors in MPOs have been expecting the regulation, according to Lonegran. Some MPOs will try to pass the cost of the legislation on to consumers, Lonegran said, though it will be a very unpopular and potentially counter-productive move due to the danger of losing market share to a rival who has not implemented a similar measure.
"There will not be an enormous shock, and some of the financial impact is most likely already factored into the operators' stock prices," he explained. "It is possible, though far from certain, that operators will compensate for this loss of revenue by increasing prices for domestic charges."
He Who Laughs First
For several years now, Europeans have been suffering from the type of roaming fees Americans have not seen for the past decade, Bill Hughes, a principal analyst at In-Stat, told the E-Commerce Times.
"Until the mid-1990s, the U.S. had a very confusing and expensive roaming process," he explained. "Your prices depended on what the local carrier wanted to charge. It could be normal, high or it could be outrageous. You never knew until you tried to make a call.
"Plus, you could have multiple carriers with different rates within a given state," Hughes added.
The European cellular systems have been a point of pride in Europe, according to Hughes. During the mid-1990s, they were gloating because they could use their new GSM system anywhere on the continent. "Roaming rates were high, but at least they were relatively consistent within a given country.
"The U.S. carriers responded to U.S. customer demand by setting up roaming agreements and simplifying the billing. Today, nationwide roaming is the norm [in the U.S.,]" Hughes noted. "The pricing [for calling plans] in Europe has dropped, but the roaming rates stayed the same. They are high by U.S. standards."
Hughes expects that any cut in rates, if passed, will be absorbed.
"From an economic standpoint, it would be essentially like a tax," he said. "Some of it is absorbed and some of it is passed on to the consumer in another way."