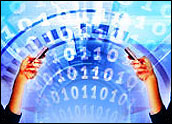 It's not often that in this gee-whiz age any technology can be accused of being under-hyped, but that's the case with mobile marketing, according to a report released this week by IDC, a research firm based in Framingham, Mass.
"IDC believes that mobile marketing is one of the instances in which the current hype actually underestimates the full potential of the market opportunity," stated the report.
"While the advertising and mobile industries have largely agreed that mobile represents the third screen in users' lives," the report continued, "IDC believes that the real value of mobile marketing is that it provides an unparalleled window into the lives of mobile users."
That window will be an irresistible target for marketers over the next five years. IDC estimates that the mobile advertising market will mushroom from US$160 million in 2006 to $4.2 billion in 2011.
Beyond 'Third Screen'
"The hype is still enormous, but the hype tends to focus on mobile as a third screen, as just another way to connect with people," Scott Ellison, IDC vice president of wireless and mobile communications, told the E-Commerce Times.
"We think the real potential of mobile advertising is the ability to create a very new type of advertising experience," he continued, "one that is, in some cases, on-demand, that delivers information to you when it is directly relevant, and one increasingly based on your individual needs, interests, aspirations and behavior."
When you talk about TVs or PCs, those are multiple user devices, he explained. In mobile, each user has their own device. As a brand, that gives you the confidence that you're reaching the user individually and not someone using their device.
Holy Grail
With mass media like TV and radio, much of the money spent by marketers is wasted tossing pitches at people outside the batter's box, explained Jay Emmet, president of mBlox, a mobile advertising network provider. What mobile does is allow marketers to pursue their Holy Grail, he asserted.
"It allows them to pursue the kind of targeted, extraordinarily discrete segmentation that marketers have always dreamed about having access to," he told the E-Commerce Times.
Not only can marketers know, with some certainty, who is receiving their messages, but they can be assured that they have their target's undivided attention, Ellison contends.
"When you're doing something with mobile, you're almost always looking at the screen," he said. "It's not like TV where you go to the bathroom during commercial breaks."
High Visibility
What's more, advertisers don't have to worry about their pitches being lost on a busy computer display, as can be the case when buying search advertising on the Web.
There can be eight or more Google AdSense ads on a Web page, Ellison noted, a problem not facing mobile advertisers. Because the mobile screen is small, there are rarely more than two ads on a page. That means if you're a brand, you have a greater likelihood of getting clicked on in mobile than on a PC.
Although the mobile market holds potential for advertisers, right now that's all it holds, according to Jason Ankeny, editor of the news site FierceMobileContent.
"There's a great deal of promise here," he told the E-Commerce Times. "But currently, it's more promise than reality from whatever perspective that you look at it.
"The biggest challenge is simply getting consumers on board with this," Ankeny added.
Consumer Acceptance
There are signs, however, that consumers may not be as resistant to mobile advertising, at least in some content areas, as they used to be. Forty-one percent of people who view or intend to view mobile video said they'd watch advertisements in order to watch free content, according to a study performed by M:Metrics and released last month by the Mobile Marketing Association.
"The next six months are critical in the continued development of the mobile medium," the association's executive director Laura Marriott said. "The high level of consumer interest and enthusiasm on the part of advertisers, agencies and carriers suggests a promising role for advertising in mobile video and television."