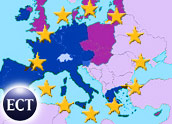 Members of the European Union approved a measure Wednesday that would scale back the roaming charges Europeans must pay when using their mobile phones to dial home during their travels across the continent.
A final vote has been set for June 29, said EU Secretary of State Joachim Wuermeling, who expects the regulation to pass. Carriers would have until the end of July to adjust their roaming fees to meet the price caps.
Vehemently opposed by Europe's mobile carriers, the move to reduce roaming fees was seen as a way to prove to European citizens that the EU is there for them.
"As you all know, the Roaming Regulation tabled for voting today after intensive and successful negotiations makes up the centerpiece of the German Presidency in telecommunications. … With this project, the EU bodies can prove that they are capable of taking effective action," Wuermeling told European Parliament members prior to the vote.
"Roaming charges in the EU are still much higher than their costs, placing a continuing burden on European citizens and especially on small and medium-sized enterprises," he said.
Calling the state of roaming fees a "market failure," Weurmeling said methods available at the community level and to national regulatory authorities were not enough to address the problem.
"Improving tariff transparency is a major stepping stone to solving the problem," he continued. "Consumers will be more satisfied in future if they are no longer taken unawares by inordinate roaming prices. As experience has shown, though, transparency alone will not bring the excessive rates under control. So we have no option but to place them under direct regulation."
On the Road
The regulation would cap the amount mobile users pay while in other EU-member countries to an average considerably lower than the current average price. In the first year, EU citizens would pay no more than 49 euro cents (US0.66) per minute for calls to other EU countries. Receiving a call from another EU country would cost 24 euro cents ($0.32). That will decrease to 46 euro cents ($.062) to make calls and 22 euro cents ($0.30) during the second year. The rates will continue to decline in the third year to 43 euro cents ($0.58) for outbound calls and 19 euro cents ($0.26) for inbound calls.
After the third year, the regulation would be reviewed and could possibly be extended if mobile operators have not reduced the cross-border fees enough.
"For once, the action of the EU will be perceived as consumers' protection by citizens, but I don't think this is too political a decision," Thomas Husson, a senior analyst at Jupiter Research, told the E-Commerce Times. "The strong pressure put by the EU is good news for customers because frankly roaming tariffs have been absolutely not transparent and too expensive in the last few years, contributing to carriers' revenues in a non-negligible manner. Beyond tourists and end-users, large corporations also claimed they paid too high a fee for their business users. Capping tariffs is a good way to make sure there will be no abuse."
Industry Fights Back
The EU's fight for lower roaming fees reached a crescendo in July 2006 after the European Commission proposed regulation that would reduce the charges consumers paid to use their mobile phones outside of their home countries. The proposal came after several years of consumer warnings and calls for the mobile phone industry to self-regulate were met with only limited results. The Commission said its purpose was to ensure that charges paid by European consumers were "not unjustifiably higher than those they pay for calling within their own country."
Retail roaming fees are about four times higher than domestic charges, according to the Commission. For instance, a local call in Poland is about 19 euro cents ($0.25) a minute. However, a German user who crosses the border to Poland can expect to pay from between 34 euro cents and 2.56 euros ($0.45 to $3.41) per minute for the same local call. On average, EU citizens pay 1.15 euros ($1.53) per minute, five times more than the cost of providing the service wholesale. The extremely high international mobile roaming charges affect a minimum of 147 million EU citizens, 110 million business users and 37 million tourists.
However, the European mobile phone industry's roaming retail price index showed the cost of making and receiving calls while traveling fell some 25 percent in 2006, according to the GSM Association in February. The per-minute rate declined by 21 euro cents ($0.28) to 62 euro cents ($0.83).
The Association said an ongoing reduction is being driven by a range of innovative tariff plans for ordinary customers, which would become illegal under the EC's proposed legislation.
"A decline of 25 percent in retail prices during 2006 shows that the market is meeting the demands for lower prices and delivering increasingly good value for all kinds of consumers," Tom Phillips, chief government and regulatory affairs officer at the GSM Association, said in February. "These price declines are in line with the objective of the European Commission to cut the price of roaming calls, which was put forward a year ago, proving that regulation, especially of the retail market, is unnecessary."
Roaming Around
Carriers have not been supportive of this legislation because roaming has been both very profitable and a service valued by customers, Bill Hughes, principal analyst at Instat, told the E-Commerce Times.
"The ultimate issue here is that being a wireless carrier is a capital-intensive business, and pricing model is ultimately somewhat arbitrary," he explained. "From an economic standpoint, it is best to charge more for the services that users value the most."
However, sometimes business can "run up against political agendas," Hughes noted. In this case, the political agenda is focused on the notion of fairness.
"The definition of 'fair' evolves over time," he said. "From what I know the prices did not increase. It is just that they did not decrease. Over time, the proportion of roaming fees increased because local prices fell. If the prices are not 'fair' now, why were they 'fair' a few years ago when per capita income was somewhat lower?"
While the proposed regulation will likely prove popular among Europeans, Hughes said, it will have a negative affect on carriers by lowering capital investment in areas where roamers tend to travel. "With high prices for roaming, a wireless operator would happily spend whatever it takes to make sure those calls were able to get through. With lower prices for roaming, there is not as much incentive. This would hurt coverage along roadways and vacation areas."
Government crossing the boundary to regulate private industry is rarely a positive, Hughes opined. "I see this effort as bad, but I am skeptical of the impact of government interference in pricing in most cases. The wireless operators will end up not reducing other prices as fast as a result. Ultimately consumers pay for what they use. I would like to see a challenge to this. I am not sure who should pursue it, such as the GSMA (Global System for Mobile Communications), or what venue they would use. "
Carriers are well aware that voice will be a commodity in the coming years, according to Jupiter's Husson, and they will need to rely on new services to compensate for declining voice revenues.
"Given that multimedia revenues from content and new messaging services are not yet significant enough, [carriers will] try to prevent regulation [from becoming] too tight," he explained. "The question is now, to which extent will price elasticity and an increase in volumes may compensate for the loss generated by tariff slashing?"