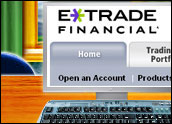 The online brokerage world continues to consolidate at breakneck speed as E*Trade announced its third acquisition in two months, saying it would buy BrownCo from JPMorgan Chase & Co. in a deal worth US$1.6 billion.
The all-cash deal will give E*Trade access to a wealthy and active customer base, perhaps the most sought-after commodity in the online stock trading space today. BrownCo has 200,000 customers with an average of more than $145,000 in each account, among the highest in the industry. E*Trade also picks up about $29 billion in assets, $3.4 billion in customer cash and approximately 28,000 daily average revenue trades.
Survival of the Fittest
Like earlier acquisitions, the BrownCo buy is about survival in the online trading business and about gaining customers to expose to its broad range of other financial offerings, including banking, wealth management consulting and other personalized services.
E*Trade CEO Mitchell Caplan called BrownCo a "premier brokerage asset and an ideal strategic fit" for his company, saying it would accelerate "the build out of our business model in this fast-consolidating industry.
"The acquisition of BrownCo complements the recent acquisition of Harrisdirect, by strengthening and extending our asset gathering strategy with a strong customer demographic, while delivering greater scale," he added.
In August, E*Trade bought Harris Direct for $700 million and just a day later announced it was taking over privately held investment advisory firm Kobren Insight Management. Both of those deals came about a month after rival Ameritrade said it would buy TD Waterhouse from Toronto-Dominion bank. E*Trade has reportedly held talks about merging with that online broker as well.
Analysts have long predicted widespread consolidation in the online brokerage industry due to rapidly dropping trading prices that cut deeply into profit margins.
Logical Choice
Diversified companies are seen as best positioned to withstand that price-cutting war and E*Trade was an early adopter of a diversified strategy, opening storefront banks as well as an online bank even before the sector was hit hard by the 2000 Nasdaq crash and the recession that began late in 2001.
Still, companies were seen having to consolidate as the growth of online trading slowed.
Fox-Pitt, Kelton analyst David Trone said that with BrownCo and Harris Direct, E*Trade seems to have bought the only two major brokerages that were on the market and may have given itself considerable time in which to strengthen itself to fend off the competitive threat of the combined Ameritrade-Waterhouse.
"E*Trade has very quickly responded by acquiring HarrisDirect and BrownCo, which in our view were the only two sizable competitors that were even remotely willing to sell."
Trone said the deal seemed to have a high price tag, but that may be a reflection of the fact that BrownCo was one of the few options for E*Trade to gain customers quickly. "There are substantial synergies and relatively low integration risk," Trone added.
E*Trade said the deal would begin to be accretive to its earnings within 9 months and said it may sell some stock in order to raise the cash to make the purchase.
Once all the mergers are completed — and assuming they get through regulatory reviews, which many analysts expect they will — E*Trade will have about 4.3 million customer accounts and $160 billion in customer assets on its books and will be handling some 160,000 daily trades on average.
Integration Watch
Analysts will likely be watching E*Trade closely for signs that it has bit off more than it can easily chew in terms of effectively absorbing and integrating target firms. But John Taladay, an attorney with Washington, D.C.-based Howrey said E*Trade likely has the capacity to handle concurrent mergers.
Taladay also believes all of the recent deals will get a green light from anti-trust regulators, with the Justice Department only getting involved when the number of brokerages falls substantially.
"It would take a fairly major deal for regulators to step in and take a stand," he added.