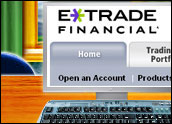 Seeking to keep pace with rivals in a rapidly consolidating industry, E*Trade Financial will buy Harrisdirect for US$700 million in cash.
E*Trade said the purchase of Harrisdirect, an online-only brokerage owned by the BMO Financial Group — parent company of the Bank of Montreal — would be "highly accretive" to its earnings going forward, worth as much as 17 cents per share annually.
The announcement of the deal came about two months after E*Trade fell short in its attempts to acquire Ameritrade. After rebuffing E*Trade's offers to merge, Ameritrade completed its own purchase, buying TD Waterhouse in a deal worth $2.9 billion.
More Opportunities
That deal left E*Trade running third among online brokers, behind leader Ameritrade and No. 2 Charles Schwab. E*Trade would remain third in terms of market share after the Harrisdirect buy — with 130,000 daily trades and 4 million accounts.
However, analysts said it would have a better chance to compete in terms of profitability and more opportunities to sell its other, related services.
"With the acquisition of Harrisdirect, we take a strategic step in further evolving our franchise," E*Trade CEO Mitchell H. Caplan said. "We will continue to actively pursue opportunities that enable us to further build out our distinct business model."
Harridirect is considered a prize because of the relatively high average account balance of its 430,000 active trade customers, with accounts holding an average of $70,000. In all, E*Trade takes over $32 billion in assets and $5 billion in cash.
Consolidate or Die
Harris handles about 15,000 trades per day, activity that E*Trade believes it can further monetize with its "integrated business model" that includes a range of banking services in addition to stock trades.
Harrisdirect also brings a world class customer-service organization to the merger, one that E*Trade said it would put to use for all of its customers.
Analysts have long said that it would be essential for online brokers to consolidate to survive among dramatically lower prices for trades and fierce competition.
In fact, one of the losers in the deal might be consumers of online trading services, which might see the longtime trend of dueling discounts and price cuts come to an end.
Looking Ahead
One analyst said the consolidation might not be done, with E*Trade still a likely takeover candidate.
"We believe the to-be-formed TD Ameritrade has its sights on E*Trade [as the hunter to become the hunted], which of course requires its own deal to close and be mostly integrated prior to such encroachment," Fox-Pitt Kelton analyst David Trone wrote in a research note today.
Those who manage to dictate the changes that occur could be in a strong position to capitalize on long-term trends that favor expansion of online trading. Forrester Research analyst Tom Watson noted that more people are becoming comfortable with trading online while the baby boomer generation gains more wealth and looks to invest for its future.
The cutthroat competition of recent years has forced companies to spend money to court and keep active, high-value traders. "Any gains often come at the expense of profitability," Watson said, driving firms to seek ways to cut their own costs and boost margins in the process.