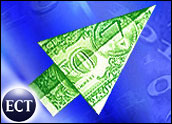 eGain Communications Corp. (Nasdaq: EGAN)was trading at US$5.81 early Tuesday, up 91 cents, after reporting strong results forthe second quarter ended December 31st and moving up its target forprofitability.
"From almost every perspective, we are executing ahead of plan," saidchairman and chief executive officer Ashutosh Roy. "We drove top-linerevenue ahead of expectations while simultaneously drivingbetter-than-anticipated efficiencies in our operating model."
Roy also said the quarter reflected the company's "continued focus on largercustomers and higher average selling prices."
The Sunnyvale, California-based maker of customer interaction software saidrevenue for the quarter soared 475 percent from a year earlier to $13.8million. The company posted a loss before non-cash charges of $15.7 million,or 45 cents per share, compared with a loss of $19.2 million, or 56 cents,in the same period a year earlier.
The company reported a net loss of $46.2 million, or $1.32 per share,against a loss of $31.5 million, or 91 cents, a year earlier.
The second quarter also marked the first in which the company reported asequential drop in operating losses, said chief financial officer HarpreetGrewal.
As a result, Grewal said, "we find ourselves about two quartersahead of previous expectations in our drive towards profitability."
eGain said it is now expecting to reach breakeven on a cash basis byDecember of this year, two quarters ahead of previous expectations. Revenuefor the calendar year will likely be about 110 percent above calendar 2000,said Grewal.
"Our cash position remains strong, and we donot anticipate having to seek additional capital before" reaching breakeven, Grewal said.
According to the company, it added more than 50 new customers during the quarter, bringing the total to more than 700. About half of the eGain's customers purchased more than one product, up from 29 percent in the prior quarter.