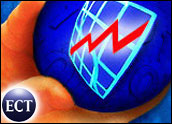 Electronic Data Systems Corp. (NYSE: EDS) rose US$6.75 to $63.65 Thursday morning after reporting gains in revenue and earnings for the fourth quarter ended December 31st, indicating that the company has not been hit as hard as some by a slowdown in demand for technology services.
Analysts at JP Morgan, Credit Suisse First Boston, Lehman Brothers and Morgan Stanley Dean Witter reportedly raised their ratings on EDS shares after the report.
"EDS ends 2000 with one of the strongest quarters in our history," said chairman and chief executive officer Dick Brown. "Our robust, balanced performance demonstrates EDS' ability to anticipate and capitalize on changes in the rapidly evolving digital economy."
During the year, the Plano, Texas-based computer services company introduced such items as security products, a communications network that delivers voice, video and data over wireless and wired systems, and a customer relationship management (CRM) product.
EDS also won some big government contracts, including a $6.9 billion deal with the Navy and Marine Corps and a $713 million UK government contract to provide an online employment system.
Other major pluses during the year included a $200 million-per-year contract from Dow Chemical Co. and a seven-year services agreement with forest products giant Weyerhaeuser.
EDS said that income before special charges for the fourth quarter rose to 70 cents per share from 61 cents a year earlier. Analysts had expected the company to earn 68 cents per share before charges.
Revenue rose 6 percent to $5.2 billion, thanks to a record $15.8 billion in contract signings, the company said.