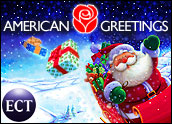 Even those who sell them for a living acknowledge that the day may never come when electronic greeting cards replace paper cards. But eCards are already far more than just a time-wasting diversion or a low-cost alternative to the real thing.
ECard companies are increasingly finding users willing to pay for the privilege of sending their cards and are attracting heavy users who find eCards a great way to supplement the traditional greeting cards they continue to send. And with broadband proliferating, eCards today can offer a level of artistry and personalization that wasn't possible in the past.
In fact, many greeting card companies are seeing the tide turn on eCards, with consumers now seeing them as a legitimate supplement to, and sometimes a substitute for, paper cards.
"We've been at this for about 10 years now and it has evolved dramatically," Sally Babcock, executive vice president at American Greetings Interactive (AGI) told the E-Commerce Times.
The approaches to generate revenue from the card sites has also changed, with the site having two turns as an ad-supported venture before adopting the current model, which relies more heavily on subscription revenue.
Others have followed suit. This year, consumers can find a host of free and paid e-card options for their holiday greetings, as well as the option of making their printed cards online.
Greetings, American-Style
According to Branch Internet Services, the first e-mail Christmas greeting cards were sent 10 years ago this season, when Domino's Farms Christmas Light Display worked with Branch to offer Web users the chance to e-mail photos of the holiday display. Fewer than 15,000 cards were sent that year, according to Branch.
Branch abandoned the service before long and now says the timing was simply wrong — the Web had not yet gained traction as a commercial venue and micropayment options such as PayPal were not yet widely used.
In fact, the eCards industry has tried a number of business models along the way, from giving away cards — something many sites still do today — to offering subscriptions.
Since its inception, AGI, the online unit of the cards giant, has gone from a paid model to a free, ad-supported approach and has returned to a blended, mostly paid model once again, according to Babcock.
This time the card maker, which has grown along the way through acquisition of Blue Mountain, Egreetings.com and BeatGreets.com — all in 2001, when the buying for dot-coms was especially good — believes it now has the approach to match consumer demand.
And that approach includes a blend of new technologies — some, such as direct-to-mobile cards, still being refined — and reliance on traditional approaches, with some users choosing to utilize the Web to design, print and even send their traditional paper greeting cards.
The decision to move to a subscription model reduced the size of its audience, she added, but has helped create a core group of heavy users who in turn now enjoy more options than ever thanks to the rise of broadband.
This fall, AGI drew millions of visitors to its home page with its "Stayin' Alive" parody, an eCard featuring a singing turkey. The card would "never have been possible for us to put on our home page" before broadband penetration reached 50 percent, Babcock noted. The eCard was viewed some 30 million times in the weeks leading up to Thanksgiving.
"Two years ago, it would have been a two or three minute wait for the average user to download it. Now it's a few seconds," she said
Emerging Trends
Babcock said despite the convenience, lower cost and other benefits of eCards AGI's own market research doesn't show eCards ever overtaking the real, hand-delivered thing. Still, the company believes there is enormous room for growth and is working hard to be ready for the changes in the tech landscape, including the mobile revolution.
"We spent some time and money on mobile cards a few years ago and though that experiment didn't turn out to be the way mobile cards were heading, it was valuable information that we'll use going forward," she added.
Also gaining traction are online options to have cards personalized, printed and in some cases even mailed.
"In those cases, the customer is paying for convenience," said Babcock. AGI also offers a print-at-home line of cards, she noted.
Meanwhile, eCards also have their backers in the environmental community. A group in the UK recently urged consumers to try electronic greetings, noting that the vast majority of the 1 billion cards that will be sent by British revelers each year end up in landfills.
Envirowise, a group partly funded by the British government, is urging businesses that usually send greetings to customers and partners as well as consumers to use its electronic card option, which save money as well as landfill space.