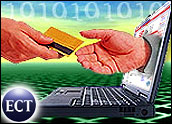 Online merchants selling digital products for small sums of money will find it easier to do so through the Internet's best known online payment service, PayPal.
That's because the company has announced a new "micropayments" pricing scheme to make selling low-priced goods through PayPal — especially those sold for less than US$2 — more attractive.
In launching the new micropayment processing fees, the San Jose, Calif.-based enterprise revealed that a la carte music downloads had influenced its move.
Customers Want Pay as They Go
"The consumer response to a la carte pricing for music downloads has clearly shown that customers want to be able to pay as they go," Peter Ashley, director of PayPal's micropayments business, said in a statement.
"With our new pricing tier for digital goods, merchants can affordably provide customers with what they are demanding — the opportunity to purchase the content they want without the need to sign up for subscriptions or pre-payments," he added.
PayPal Spokesperson Sara Bettencourt explained that the company began working on micropayments last year with online music sellers iTunes and Napster. "We saw a lot of success in digital music downloads," she told the E-Commerce Times. "Because of that success, we wanted to extend it to other vertical markets."
Fixed Fee Critical
She noted that the standard PayPal fee is based on a percentage of the price of an item plus a fixed transaction fee. The percentage ranges from 1.9 to 2.9 percent; the fixed rate is 30 cents.
Under the micropayment scheme, the percentage is a flat five percent and the fixed rate is a nickel.
Bettencourt maintained that reducing the fixed fee for a transaction was crucial to the scheme. "That's what was affecting pricing per transaction the most for low value transactions under five dollars," she said.
The micropayment fee structure, Bettencourt said, should be attractive to a variety of online merchants such as purveyors of networked video games, electronic greeting cards, news and mobile content.
Small Market
According to Dan Schatt, a senior analyst for retail payment technologies for Boston-based Celent, a research and consulting firm focused on the application of information technology in the global financial services industry, micropayments are only a small part of online digital content sales.
He told the E-Commerce Times that this year, those sales — including gambling and pornography sales — would be about $12.1 billion. Most of that amount is gathered through subscription sales, he noted, with about 15 percent generated through a la carte sales.
"Within that 15 percent, it's a relatively small percentage that's coming from sales of five dollars and under," he said. "That's because larger institutions, like iTunes, that are selling digital music have found ways to aggregate transactions on a daily basis."
He explained that a typical music consumer doesn't buy one song during the course of a day, but several. When those transactions are aggregated, the total is more in the $10 range rather than $5, he said.
"What PayPal can do by creating this new pricing structure is develop relationships with a lot of small- and mid-sized online merchants that want to ensure that they have as many options as they possibly can to facilitate payments by consumers," he added.
Consumer Benefits
Adam Ginsberg, of Adam Gisnberg Consulting, and author of How to Buy, Sell & Profit on eBay published by HarperCollins, sees the latest move by PayPal as a positive one for consumers by eroding resistance to accepting PayPal payments.
"This opens the door to give people more opportunity to list more things for sale," he told the E-Commerce Times. "From a consumers' perspective, that means more variety in items being sold."
"With the people that I talk to and train and work with, so many of them want to know how can I sell an information product online?" he continued. "But they don't want to take PayPal because the fees are too high. This gives them one more incentive to get going."
"For consumers, there's going to be positives in market niches that PayPal hasn't identified yet," he added.