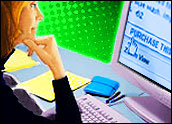 I would like to imagine a world where I never have to go to a mall, never have to wait in the checkout line behind the person returning 23 items, where I never have to make my tenth circle in the parking lot and engage in a to-the-death fight with that hulking SUV for the last space. I would like to imagine a world where I could do all my shopping online — every last bit of it.
I know that some people enjoy walking through the latest mall, browsing the newest boutique, and certainly I do enjoy this from time to time. However, I have always had a fascination, maybe a small addiction, with online shopping. There is something truly magical about being able to browse for that special something while sitting in my pajamas, coffee in hand, on my couch, at 2 a.m. There is not a mall in the world that can recreate that experience.
In fact, one Christmas, about four years ago, I challenged myself — and subsequently enraged my significant other at the time — to buy all my Christmas gifts online — every gift. This included candy from Godiva for Grandma, a new pair of camouflage pants for Dad and some specialty dog treats for man's best friend. In the end it wasn't a challenge at all. It was a pleasure. Buying online just fits me and my lifestyle.
Amazing Growth
It would seem I am not alone. Online retailers are continuing to see amazing growth year over year. Retailers make up the largest vertical in the top 100 sites in terms of unique visitors, and in the latest data to cross my desk, the top 10 retailers, in terms of online revenue, averaged more than a 30 percent increase in year-to-year revenue growth online with millions if not billions — Amazon made over US$6 billion online in 2004 — of dollars being spent each year.
So even if my dream never comes true and we still have malls and crowded parking lots to go with them, I believe that we have seen and will continue to see the Internet channel become more and more critical to the overall success of any retailer.
As usage grows, competition will become ever more fierce, the novelty factor will decrease and users will no longer tolerate any poor experience online.
There are many more barriers or distractions to keep you in a physical store if your experience is poor than there are compared to the ease of clicking away to the nearest competitor selling the specific item you came to the Web site to buy.
While there are certainly many things that make up the user's experience on a Web site, including usability, privacy and security, and quality search results, to name a few, at minimum, sites must respond quickly and be reliable — free from errors that keep the page from displaying properly, or worse, not at all. There are few things more frustrating to a user than watching the browser spin while trying to shop for their favorite product online or getting a major error in the middle of checking out.
More to Do
In the latest Keynote competitive intelligence study of top online retailers, we found that there is still much that can be done, and should be done, to improve the responsiveness and reliability of our favorite online retailers. The Internet might be all grown up but many individual Web sites haven't grown up yet. So in my dual role as a lover of online shopping and a service level performance analyst, I feel I have a vested, albeit a selfish interest, in improving the shopping experience online.
Through an extremely large study of the top 19 retail Web sites — 120,000 individual measurements looking at the purchase process online from various connection speeds and geographies — I would recommend that retailers do the following:
Reduce Outages and Make Your Checkout More Reliable. In general the retail sites we included in our study were highly reliable, with the best sites pushing over 99.5 percent average availability. However, the bottom seven sites, in terms of reliability, reported 10 hours of outages — out of 280 hours — or more. An outage is defined as an hour with more than a 30 percent error rate.

Within a typical shopping transaction, the checkout process was the least reliable. This is troubling in that every hour the site is partially down, you are losing a customer to a competitor, you are losing revenue and you are losing face. Real money is being lost online when your Web site is unavailable.

Let Me Shop From Any Connection Speed. Pity the user who wants to shop online using a dial-up connection, or a consumer satellite or as I do from a hotel that only has a very poor connection to the Internet. While retail sites inherently have larger pages than other verticals, it is not necessary to build pages so large they make browsing the site painful on a slower connection.

In our recent study, we found home pages taking over a minute and a half — yes 90 seconds — to download and search results taking almost two minutes in some cases! Few if any users are patient enough to wait two minutes just to see the results of a simple search. Much can be done to improve the experience of the dial-up user — still about half of the consumer market — through compression, smart page design and caching.

Don't Let Other Users Hurt My Experience. In our study we found that several major retailer sites slowed down dramatically every day as the traffic increased with more users accessing the sites. The slowdown was so dramatic on one Web site that response time almost doubled. And keep in mind, the study was done earlier this summer and not during the busy holiday season when load is extremely high.

The fact that major retailers are struggling with handling user load without degradations in the user's experience during a relatively low volume period makes me worry about them during the upcoming holiday experience. Retail sites need to constantly measure and test for capacity and ensure that when I want to shop, other shopping along side me won't hurt my experience.

Be More Consistent. Even the retailers who took the top position in our study could improve in some areas. Unlike some of the other industries we benchmark — financial, travel, insurance, etc. — even the best retail sites haven't mastered all areas that make up a Web site's service level. A site's service level is not simply its average response or reliability but also includes technical page design, its ability to handle load, the way it services all connection speeds and all geographies.

Retailers need to focus on their sites holistically and make sure that all parts of a quality user experience are delivered. Managing service levels using the outdated 8-second rule and checking to see if the home page is available from some machine in your own data center is no longer acceptable. Users are expecting more and it needs to be delivered in all areas of the site.
I want to use your Web site, I want to buy your products, I want you to succeed. The least you could do is make sure your site is fast and error free. Maybe there will still be malls, maybe there will still be crowded parking lots and overpriced coffee, but I will do my part, please do yours.
---
Ben Rushlo
is manager of Professional Services for Keynote Systems.
---