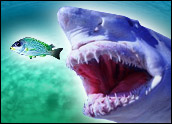 Regulators in Europe have cleared the way for Microsoft and Time Warner to acquire a content-protection company that could accelerate the adoption of digital rights management, reduce software piracy and make it easier for content owners to distribute movies and music on the Internet.
The European Commission dropped its objections to the acquisition of ContentGuard — a company that at one time was a unit of Xerox — after a France-based company joined the deal. However, regulators also said they would monitor the marketplace to ensure that competition is not harmed by the merger.
ContentGuard's technology is seen as a lynchpin in Microsoft's strategy to become a key ally of content owners — such as Time Warner — that want to be able to ensure that movies they allow to be downloaded over the Internet or sold in DVD form are not copied without authorization. That in turn could help Microsoft be a key part of the supply chain through which content is moved digitally to consumers.
Digital Rights Management Standard
Analysts say much work remains to be done in the area, including establishing a standard for digital rights management (DRM) and convincing device makers to adopt a certain brand of technology. ContentGuard was seen as a leader in that area.
In that sense, the addition of France-based Thomson to the deal might actually further Microsoft's efforts. That company provides streaming video services to content owners.
The companies involved said the agreement was the result of a cooperative approach with European regulators. "We all worked closely and constructively with the European Commission throughout this process," Microsoft General Counsel Brad Smith said.
Smith said giving ContentGuard more exposure will "help promote broader access to DRM technologies that will benefit businesses and consumers in Europe and around the world."
Microsoft has long been familiar with the firm, having struck a deal to work on digital rights issues with Xerox before it spun the unit off in 2000.
However, Microsoft has seen others gain an edge in the area, most notably the gains that Apple has seen in establishing its iTunes platform and its FairPlay DRM tool as a way of managing access to digital music.
Just as FairPlay lets users copy their music a certain number of times or play it on a limited number of computers or other devices, ContentGuard can establish similar rules for a range of digital media, from documents and digital music to software and DVDs.
Gartner analyst Ray Wagner said hurdles remain for spreading DRM.
Win Some, Wait on Some
"The lack of interoperability is still an issue," Wagner told the E-Commerce Times. In addition, questions about how to leverage DRM to make money remain, especially in scenarios where content owners are distributing movies or music through multiple partners — technology companies, network owners such as cable companies — before they reach the user.
By gaining access to ContentGuard's highly regarded technology, Microsoft could help accelerate the needed changes, but hardware makers are likely to take a wait-and-see approach before committing to a single standard, Wagner added.
For Microsoft, the acquisition is also a rare victory in the European arena, where it remains under strict sanctions aimed at creating a more competitive environment in the media player and server markets.
Microsoft has begun to comply with some sanctions, paying some US$600 million in fines and working on a version of Windows that does not contain the Media Player software. However, the software giant is still appealing the ruling that it behaved in an anti-competitive way.
Regulators said they are reviewing feedback from other vendors to determine if Microsoft's early efforts have resulted in an improved competitive landscape.