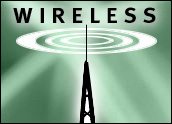 More than 60 percent of Americans now subscribe to wireless calling plans as the cell phone industry continues to post dramatic growth and readies for the next generation of wireless services, according to new data from an industry association.
CTIA, the wireless industry association, said in its semi-annual industry survey that wireless subscription grew 13.7 percent last year, with the industry adding more than 27 million new subscribers, bringing the total customer base to around 180 million.
"The wireless industry continues to grow because it has proven its worth to the consumer," CTIA President and CEO Steve Largent said in a statement. "Wireless phones have become a lifestyle tool, allowing consumers to communicate and connect how they want, when they want and where they want."
More Features To Come
The group released the data as its annual wireless trade show began and said its survey found a thriving industry with revenues increasing, employment up and major capital investments being made to usher in the next generation of wireless services and features.
Capital investment was close to US$28 billion, the group said, and to date, some $173 billion has been invested in wireless networks, cellular tower sites and other infrastructure.
The group said wireless users logged more than 1 trillion minutes on their phones, a 33 percent increase.
The industry's recent growth spurt could help grease the skids for additional services and features, analysts say, as basic subscriptions provide the revenue stream carriers need to build out next-generation 3G networks.
Most analysts see a slow and steady growth by the industry into new, yet unproven areas, with uptake modest at first and then growing as carriers are able to offer better prices and better service.
"Wireless phones are becoming more than just phones, they are becoming the third-screen outside of the computer and the television," independent telecom analyst Jeff Kagan told the E-Commerce Times.
Kagan said Verizon's V CAST streaming video services "truly are impressive" and might represent just one avenue for carriers to pursue for boosting revenue from each subscriber.
"This is the year wireless data will explode," he said.
Jupiter Research analyst Julie Ask said mobile video is shaping up to be one of the top "hop topics" at the conference.
Ask wrote in her Web log on the conference that she is "very optimistic" about the mobile video market, but thinks forecasts that predict as much as 20 percent of the mobile phone using public will adopt video this year might be hard to achieve.
"I don't think the numbers will be anywhere near this high at least in 2005," she wrote.
Crowded House
One thing is clear: The industry can afford to lay the foundation for new services. According to CTIA, the wireless industry had revenues of $52.8 billion for the second half of 2004, up more than 14 percent from the year before.
While all carriers are making investments in 3G and in building out existing networks, some are ahead of others, as the Verizon VCAST service demonstrates.
The various product rollouts at the trade show, meanwhile, underscore how brutal competition will be in the growing wireless arena, whether it's among carriers or hand-held makers
The company that makes the i-mate hand-held, for instance, announced it was opening its first U.S. office to target the North American audience. Already popular overseas, the i-mate operates on Microsoft's Windows Mobile and can perform a range of functions from running media players to instant messenging and digital camera programs.
On the consumer side, hand-helds are evolving and improving quickly enough to handle more advanced services, from color screens to handle video to larger keyboards to enable messages to be sent and Web sites to be surfed.
Sprint, meanwhile, took aim at the business side of the equation, rolling out an outsourced mobile solution at CTIA. Sprint's service is meant for businesses that want to manage vast workforces or mobile sales forces on advanced wireless networks.