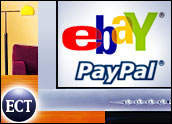 EBay's PayPal online payment service has been hit by a week-long series of technical glitches that have left some small merchants unable to receive payments.
The problems have left some PayPal users unable to access the service or their accounts. PayPal is the most popular online payment service and the preferred method of payment for almost all merchants who sell on eBay.
A company spokesperson said today that eBay was "working furiously" to identify and resolve the problem and said one possible cause being investigated was an update to the service completed last week.
PayPal said functions of the service that enable buyer and seller to exchange shipping information and to process payments immediately upon closing a sale were also affected by the outage.
EBay said it did not believe the problems stemmed from an Internet attack of any kind, but stopped short of ruling out the possibility.
Several recent distributed denial of service (DDoS) attacks have targeted Internet backbone services such as a credit card verification service and the sites that deliver advertising content to Web sites. Last week, WorldPay, an online payment service based in the UK, said its services had been hampered by such an attack.
Analysts said it was impossible to say what impact, if any, the outage would have on eBay financially. Shares of eBay were lower in early trading today, falling 1.3 percent to US$92.50.
Redesign to Blame?
PayPal has some 50 million users worldwide and, according to eBay's second quarter earnings release, processed some 78 million transactions worth $4.4 billion between April and July.
Though eBay said the outages have been "intermittent," some users on eBay's discussion forums reported being unable to access their accounts for as long as three days, starting late last week, around the same time that PayPal unveiled a redesigned home page that also included additional functionality at the back end, where code is being scoured for potential problems.
Many of the eBay message board postings were from users who wanted to withdraw their funds from PayPal but were unable to due to the outage. Others said they had no trouble transferring funds to their bank accounts from PayPal.
At least one merchant, a novelty seller called Vista Wholesale, said it had removed PayPal from its site as a payment option because of the down time.
Been There
EBay has weathered its share of technical glitches and outages over the years, including several major periods of downtimes two years ago that led the company to invest millions to upgrade its server networks and establish an off-site backup.
At the time, analysts said each outage likely meant millions in lost revenue to eBay.
PayPal has also been a favorite target of recent phishing attacks, according to security experts, with e-mails mimicking the site's design and logo attempting to obtain bank account numbers and other data from unsuspecting users.
Though PayPal, which eBay bought just weeks after it went public, has plenty of competition in the online and micropayment space, including formidable foes such as Yahoo, it enjoys a massive market share advantage. Because of its free-to-users model and early aggressive marketing that included giving away cash to all who signed up, the service has created a strong niche for itself.
Despite the outrage of some merchants, analysts said it would take a prolonged outage to send a significant number of users to other payment options. Most of eBay merchants who favor PayPal are not large enough to pay the up-front fees and other costs associated with taking major credit cards.
"EBay will have to confront the public relations and customer service aspect of the problem head-on, but if they do that, they should not suffer any meaningful losses to their customer base," said Forrester Research analyst Jonathan Penn.
Noting that rumors of lost accounts and other problems are already circulating on message boards, Penn said eBay will have to prove to customers that PayPal is safe from hackers as well.