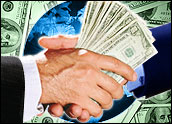 eBay has reached a settlement with MercExchange in a case that had bounced around several courts and prompted a landmark Supreme Court decision.
The San Jose, Calif.-based online auctioneer will purchase three patents, including technology central to its vaunted "Buy It Now" feature, from Great Falls, Va.-based MercExchange for an undisclosed sum.
Buy It Now allows eBay customers to bypass bidding and purchase an item for a fixed price. MercExchange, a technology development and online auction firm, took eBay to court in September 2001 over allegations that the auction giant had infringed on three of the former's patents.
In 2003, a jury found that eBay had infringed on two patents and ordered it to pay MercExchange US$25 million.
Landmark Patent-Infringement Decision
eBay appealed the case all the way to the Supreme Court and, in 2006, the High Court unanimously ruled MercExchange was not automatically entitled to an injunction against eBay — a reversal of longtime precedent in patent-infringement cases.
The Supreme Court also sent the case back to a U.S. District Court in Norfolk, Va., to determine the necessity of an injunction. That court ruled that a monetary settlement would suffice.
In December, that court ordered eBay to pay MercExchange $30 million. Terms of the settlement are confidential, eBay said, adding that it will buy all three patents involved in the dispute, as well as some additional technology and a license to another search-related patent portfolio that was not connected to the case.
"We're pleased to have been able to reach a settlement with MercExchange," said Mike Jacobson, eBay's senior vice president and general counsel. "In addition to resolving the litigation, this settlement gives us access to additional intellectual property that will help improve and further secure our marketplaces."
eBay does not expect the settlement to affect its 2007 results or its 2008 financial guidance issued in conjunction with its fourth-quarter earnings release announced on Jan. 23.
eBay shares were trading $26.54 at midday Friday on the Nasdaq stock exchange, down more than 3 percent from Thursday's closing price of $27.27. Thursday's settlement came just several weeks after eBay stock had bottomed out for the year, Jan. 30, at $25.64. The shares peaked at $40.73 Oct. 11.
Back to Business as Usual
The important thing for eBay is that the auctioneer can get back to business as usual, said John Rabena, a Washington-based attorney who focuses on software and Internet patent-infringement issues.
"No. 1, it can continue the part of its business that was threatened, but it now has acquired intellectual property that it can use against its own competitors," he told the E-Commerce Times. "So it actually may recoup some of the money that it had to pay out."
The Supreme Court's ruling on injunctions likely helped lessen the financial sting to eBay as well," Rabena added. "I'm sure it affected the amount eBay had to pay in the final settlement. I'm sure it's less because there was no threat of them enjoining eBay."
eBay's decision to settle was prudent, Roger Kay, principal analyst with Endpoint Technologies, told the E-Commerce Times."In any event, eBay made better use of the patents simply because it has a larger platform, so, for that reason, if you get the price even close to reasonable, it's better for eBay to settle," Kay said. "What it really wants is to use the intellectual property."