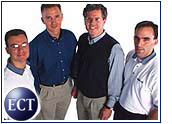 As part of its ongoing effort to expand the scope of the property transactions it hosts on the Internet, eBay, Inc. announced Thursday that it has joined efforts with Berkeley, California-based zipRealty.com to sell real estate online.
The new eBay category, to be known as eBay Real Estate, will facilitate property transactions for both buyers and sellers.
"Buying or selling a home is one of the largest, most complex and time consuming transactions that people make," said eBay COO Brian Swette. "Our goal with eBay Real Estate is to offer a better way for people to buy or sell practically any type of property on earth."
Shaping Demand
Potential real estate traders among eBay's 16 million-member community provided the real impetus for the creation of the real estate category, eBay spokesman Kevin Pursglove told the E-Commerce Times.
Said Pursglove, "Over the past six months we've noticed from our users that a real estate category would be a good idea. But because real estate is complicated, and each state can have different rules, we sought out Zip Realty and forged an alliance."
This latest eBay expansion echoes the company's foray into auto sales. "This time last year," Pursglove said, "users were listing autos and motorcycles, and we didn't have a special eBay category. So we contacted our consumers, communicated with them, and created eBay Motors."
However, eBay Motors' first year has not been trouble-free; a vocal minority of customers voiced frustration with the auction house after it created a separate site for automobile and motorcycle sales.
Still, Pursglove does not anticipate problems with the latest entree into a big ticket industry like real estate. "We have learned from the way we introduced eBay Motors and we're taking it slow," Pursglove said. "This is the first step, and we expect our users to be active with us to help us improve the site."
Sales Not Legally Binding
However, users who anticipate buying or selling their homes with the click of the button may be disappointed. Because of complex real estate laws that vary from state to state, eBay Real Estate will essentially act as a listing service.
eBay will initially charge $50 (US$) to list a piece of real estate. When users find a property in which they are interested, they will then be directed to the services of zipRealty.com. Home-sellers with the new service will receive a personalized Web page of their house that will feature 360-degree virtual tours and the placement of their listing on multiple Internet listing sites.
Massive Exposure
For zipRealty.com, the deal with eBay "provides an increased amount of exposure" for their home-sellers and "allows for a new platform to bring buyers and sellers together," said spokesperson Dessirah Tish. The agreement will also mean a tremendous amount of new exposure for zipRealty.com's property-sellers.
zipRealty.com operates in 15 metropolitan areas and in 10 U.S. states. Much of this expansion has occurred after the company launched its Web site last year.
The company expects this rapid rate of expansion to continue in the wake of the eBay deal, but is confident that the increased number of potential buyers will not have adverse affects on customer service.
"We're prepared for the increased traffic and won't let our customer service slide," Tish said.