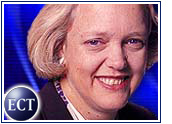 In a bid to increase its international market share, eBay (Nasdaq: EBAY) announced late Wednesday that it has signed an agreement to purchase European online auctioneer iBazar S.A. in an all-stock deal estimated to be worth up to US$112 million.
"This deal is a tremendous step forward for eBay," said eBay president and chief executive officer Meg Whitman. "In one strategic move, we have increased our pan-European footprint, as well as the strength of our global trading community."
Whitman added: "Today, we are much closer to realizing our dream of a marketplace where people anywhere on the planet can seamlessly trade almost anything."
The Internet auction powerhouse said that the deal would "firmly solidify eBay's position in Europe and significantly strengthen eBay's global marketplace."
Gaining Ground
Paris, France-based iBazar, which opened for business in October 1998, hosts online auction sites in eight countries — Belgium, Brazil, France, Italy, the Netherlands, Portugal, Spain, and Sweden — and has 2.4 million registered users.
According to eBay, iBazar was the leading site in all its markets except for Sweden, based on gross merchandise sales, which reached $95 million in the fourth quarter.
In addition to its U.S. site, eBay currently operates sites in nine eBay countries — the UK, Germany, Austria, France, Italy, Canada, Australia, Japan and Korea.
The San Jose, California-based company said that in its existing European marketplaces, eBay users generated over $137 million in gross merchandise sales during the fourth quarter.
Inside the Deal
The acquisition, which will be accounted for as a purchase, is expected to close in the second quarter. Under the terms of the deal, eBay will issue approximately 2.25 million shares of common stock for all outstanding shares of iBazar.
The value of eBay's stock will be determined at the time of closing and will have a minimum valuation of $66 million and a maximum valuation of $112 million.
eBay said that based on "very preliminary estimates," the recognized purchase price is expected to include approximately $6 million for acquisition-related costs. eBay also said that the calculation of goodwill will include approximately $30 million associated with the assumption of closing date net liabilities.
Numbers Game
eBay cautioned that the "calculation of the final purchase price and goodwill" might vary significantly from the estimates given and would depend upon a number of factors, including the length of time necessary to seal the deal and the results of iBazar's operations for the period prior to the close.
The acquisition's impact on eBay's 2001 revenues, according to the company, will be "nominal." eBay added that on a pro forma basis, excluding amortization of goodwill and other acquired intangible assets, its full year net income per year would be decreased by four cents, with the largest impact occurring in the first full quarter after the acquisition.