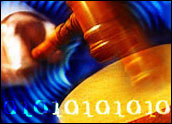 Online auction search site Bidder's Edge, which was barred last year by a court order from combing auctions that were listed on Internet heavyweight eBay, said that it will be shutting down its search service on February 21st.
Burlington, Massachusetts-based Bidder's Edge said that the business model of its portal site — which allowed users to search for items across 200 online auction sites, including those of Yahoo! and Amazon — could not be supported in the current market climate.
"Unfortunately, business conditions are not what we hoped they would be," Bidder's Edge spokesperson Brian Oren told the E-Commerce Times. "The auction landscape is changing so fast and auction sites we hoped would be players went out of business."
Despite the closure of its service, Oren said that the company will maintain operations and is hoping to license its technology. He added that the company was not planning to lay off any of its employees at this time.
In a notice on its site that thanked users for their patronage during its two years in business, Bidder's Edge also said that it "will not disclose, share, or sell any personal consumer information to third-party organizations for personal or commercial purposes."
Bidding War
Beginning in late 1999, eBay aggressively sought to block price comparison search software from probing its Web site — barring Bidder's Edge, AuctionWatch.com and two other smaller auction sites from crawling its millions of listings.
At issue was eBay's resistance to the growing use of shopping bots, which allow users to search for the lowest price on a product or auction item across multiple sites.
In December of that year, eBay filed suit against Bidder's Edge in the U.S. District Court for Northern California, alleging that its search engine software had trespassed on eBay's computers, impaired site performance, committed computer fraud and misappropriation, and violated copyrights and other intellectual property.
Although the judge in the case eventually agreed with Bidder's Edge that its service did not constitute copyright infringement, the court found that the company's search results were likely a form of trespass and issued a injunction against Bidder's Edge, enjoining it from using its automated search system to comb eBay's listing.
Peace with eBay
As a result, Bidder's Edge modified its service last June with the introduction of a new eBay-only search option, which displayed results in a separate window and did not integrate its prices with any of the other auction sites Bidder's Edge tracks.
Bidder's Edge also appealed the district court ruling and is reportedly in settlement talks with eBay.
eBay's efforts to fend off auction aggregators also caught the attention of U.S. federal investigators, who launched a preliminary probe in February 2000 to determine whether the company was engaged in anti-competitive practices. However, no formal action was taken.
Not Related?
For its part, Bidder's Edge said that the exclusion of eBay listings from integrated service had nothing to do with its upcoming closure, since the company never had any revenue-sharing relationship with eBay.
According to Oren, the exclusion of eBay's listings had "been factored in for some time."