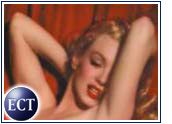 Internet auctioneer eBay will be looking for more than the usual exposure when it combines with its real world auction arm, Butterfields, to auction a series of five nude Marilyn Monroe photographs online in March.
Not only will the results of the auction go a long way toward determiningthe viability of auctioning high-ticket items online, it will mark animportant step in the evolution of eBay as it reaches out for higher revenues and even wider renown.
The photos will be sold at atraditional live auction, as well as through eBay's simultaneous live auctiontechnology. To date, the Internet auction giant has not been able to translate the popularity of its online auctions to the high-priced market.
Gartner Group analyst Robert Labatt told the E-CommerceTimes the Monroe auction will likely be a no-lose situation for eBay and Butterfields.
"It can't fail, because the PR spin that's been generated is achieving theobjective of having more people aware of this sale, regardless of whetherthe sale is achieved over the Internet or not," Labatt said. "However, over time, thesetactics will reduce in value."
Broad Rights
CatherineWilliamson, director of entertainment memorabilia for Butterfields, told theE-Commerce Times that the Marilyn Monroe auction will be a great opportunity because "it's a really high profile auction, which gets usto flex our huge marketing muscle in the eBay corporation."
Bids are expected to be in excess of US$700,000 for the 1949 photo shoot,called the "Red Velvet" series.
The sale includes not only the photographs, but also the intellectual propertyrights to reproduce the images wherever and however the winning bidderchooses.
As a result, the Red Velvet auction has been criticized by collectors and dealerswho say that the sale of the intellectual property rights is highly unusual andmight set a frightening precedent.
Commercialization for Sale?
Critics have also argued that by including the negatives and property rightswith the photographs, eBay and Butterfield are not valuing the photo series ashistorically important.
Williamson, however, dismissed that claim, saying that the photographs "wouldn't have such a large price tag if we didn't think they were ofhistorical importance."
Williamson also said that the sale was not likely to change how intellectual property is usually transferred.
"I don't think you're going to see every intellectual property salehappen at live auctions," she said. "It's just another venue to make a sale."
The Misfits?
Alliances between online auction houses and their real-world counterparts have met with difficulties, leading analysts to question whether the connection is a misfit.
In November, eBay cut 15 percent of Butterfields workforce in an attempt to reach profitability. Likewise, a cooperative effort between Sotheby'sand Amazon.com shut down in October, after less than a year in operation.
Still, Williamson argues that the online market has already proven it can handle high-ticket items.
"A good item sells," Williamson said. "We've already seen examples, such as the Honus Wagnerbaseball card, which was estimated at half a million and sold for over a million on eBay last year."
The near-mint condition card, depicting Hall of Fame PittsburghPirates shortstop Wagner, was sold on eBay in July for $1.265 million under special rules to prevent bidders without significant funds from participating.
Uphill Battle
Labatt cautioned that live online bidding of such high priced itemsshould only be used in conjunction with real-world auctions.
"It's intelligent to use the Internet as one of several channels to sellhigh ticket goods," Labatt said. "It would be foolish of Butterfields to only use theInternet to auction these goods without having a live in-person or telephoneauction at the same time."
Butterfields believes that the challenges coming from the greater volume ofinterest generated online in the case of cross-channel auctions are well worth the additional work.
"I can't tell you how groundbreaking it is to offer that kind of accessinternationally," Williamson said. "It's a challenge for our department to process it all, butwe can handle [it]."