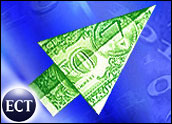 U.S. e-commerce spending rose in the third quarter compared to the same period last year — much more so when online travel was factored in — according to two reports released Wednesday.
The U.S. Department of Commerce said third-quarter spending was US$7.5 billion, up 8 percent from the same period in 2000 and up 0.2 percent from the second quarter of 2001. The government's figures do not include online travel spending.
However, figures released by Nielsen//NetRatings (Nasdaq: NTRT) and Harris Interactive (Nasdaq: HPOL) showed U.S. consumers spent $16.3 billion online during the third quarter, up 60 percent compared to the same three-month period in 2000. Those figures do include travel spending on the Web.
During the same period in 2000, consumers spent $10.3 billion, according to the eCommercePulse index by NetRatings and Harris.
"Posting 60-percent growth in the face of a challenging economy is a remarkable achievement," said Sean Kaldor, vice president of analytical services at NetRatings.
Growth Factors
Kaldor said that several factors contributed to the growth, including more Internet users, more comfort among Web users about shopping online and higher average spending amounts per person on the Net.
According to the eCommercePulse, a surge in online travel helped fuel the increase. Travel spending itself grew 53 percent to $4.3 billion.
The third-quarter spending figures cover the July through September period, meaning that they include only part of the aftermath of the September 11th terrorist attacks, which brought on a short, sharp drop in online travel buying and prompted earnings warnings from several online travel companies.
New Threads
One of the biggest year-over-year gainers, according to NetRatings and Harris, was the clothing category, which rose 77 percent to about $1.5 billion, making it the second-largest category behind travel. Auctions ranked third overall, with $1.2 billion spent, a 94 percent increase.
Books, one of the oldest e-commerce categories, posted a surprisingly large growth rate for the year, with spending rising 79 percent to $798 million. Computer hardware saw the most modest gains among top categories, with a 22 percent climb to $1.1 billion.
In all, 14 product categories are counted by NetRatings and Harris, including electronics, flowers, gifts and cards, health and beauty, home and garden, music, and toys.
Third is Third
According to the Commerce Department figures, e-commerce again accounted for just under 1 percent of all retail sales, the same level as in the second quarter.
The third quarter of 2001 ranks as the third largest for online spending since the DOC began tracking e-commerce in the fourth quarter of 1999.
Only the fourth quarter of 2000, when $8.8 billion was spent, and the first quarter of 2001, when spending clocked in at nearly $7.6 billion, saw heavier activity.