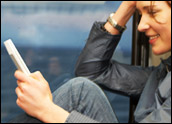 Amazon seems to be writing a self-help book of its own. You could call it, The Seven Habits of Highly Effective E-Reader Companies, and the first item on that list would appear to be: Lock in an exclusive deal with one of the most popular business writers ever.
Amazon announced on Tuesday that Stephen Covey, author of the bestselling The Seven Habits of Highly Effective People, had given the Seattle-based company digital publishing rights to that book and another title for one year. Anyone getting a Kindle for Christmas will be the only consumers who will be able to download Seven Habits and read it at their leisure.
Yet Amazon may also be taking some cues from the maritime thrillers of Master and Commander author Stephen O'Brien; the exclusivity deal is a booming shot across the bows of not only its e-readier competitors like Sony and Barnes & Noble, but also the traditional publishers who have begun to fret that authors will make their own deals with digital book providers, since the royalty payment rates are usually higher than what the likes of Random House and Simon and Shuster — Covey's publisher — have usually paid.
With e-readers topping many wish lists this holiday season, the Amazon deal may signal the next chapter in what has been a big consumer electronics story in 2009.
Timing Is Everything
Amazon needed to make this kind of deal now while its Kindle still dominates the e-reader device market, said Bill Trippe, vice president and lead analyst for the Gilbane Group.
"It's interesting to me that the deal for the two Covey titles is only for one year," Trippe told the E-Commerce Times. "A year from now, it's a much more competitive market. We've got an Apple tablet device supposedly coming, there are already tons of people reading on iPhones and smartphones. I think it's a different market a year from now."
The timing of the Amazon/Covey arrangement is also interesting, considering that late last week, Random House sent a memo to agents reminding them that it had the rights to digital editions of previous titles, lest the agents consider making their own e-book deals. Yet Tuesday's announcement doesn't necessarily herald the start of a bidding war over A-list authors, according to Gartner media analyst Allen Weiner.
"Publishers are indeed frightened because most of the e-reader companies are making it pretty easy for individual authors to sell their own content," Weiner told the E-Commerce Times. "All they need to do is send one of these companies a document in any form, and it can be made into an e-book in a heartbeat. It's not like music.
"But it's a short-term deal and probably tied to the notion that Amazon will continue to exert more power than it will have in the future," Weiner continued. "It gives them some short-term clout, but it definitely won't be the norm, because authors are going to want to get their books in as many different places as possible."
The Future of Reading
Amazon may also have had to make its deal with Covey, one of the more recognizable business authors, because of its interest in that market. Competitor Plastic Logic will announce an e-reader device at the Consumer Electronics Show in January, and that company is also targeting the business book market, Weiner said.
The deal also doesn't mean that traditional publishers have been caught flat-footed by the move to e-books. "I do think that Random House has a legitimate claim when it says they've been very aggressive (in e-publishing). They've been digitizing tons of their titles and working with authors. All the major trade publishers have been doing this," Gilbane's Trippe said. "They want the control, and they don't want to cede control to what they see as a single channel in Amazon, although it remains a very important channel."
Dedicated devices for reading won't be the end of the story in 2010, Weiner said. "Devices don't matter, which is what makes this deal somewhat meaningless. By mid-2010, it's going to be totally about content. You're going to be able to access your e-book, your e-newspaper, your e-magazine on whatever device you want — a smartphone, dedicated e-reader, hybrid e-reader/netbook, a PC, what have you."