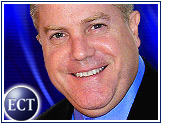 Automotive e-marketplace Covisint announced Wednesday that it had chosen Kevin W. English, a former Wall Street executive with no automotive experience, as its first chief executive officer, president and chairman of the board.
Dubbed an "e-commerce leader" by Covisint, English was previously the managing director and CEO for e-commerce at Credit Suisse First Boston. He was also the chairman and CEO for online financial news site TheStreet.com during the time of its initial public offering (IPO).
English will start his new job May 1st.
"I think he's an interesting choice," Jupiter Research business-to-business (B2B) analyst Jonathan Gibs told the E-Commerce Times. "I find it somewhat telling that he does not have an automotive background."
Gibs and AMR analyst Kevin Prouty each believe that English has a difficult job ahead of him, both in trying sell the Covisint concept to suppliers and investors, as well as getting the fiercely competitive automakers backing the site to work together peaceably.
The Next Gear
The choice of English is important, according to Gibs, because it signals that "Covisint's goal is not to just to be an automotive portal, but to deal with the entire supply chain."
Gibs said that Covisint has been moving away from a "meet-and-greet" exchange concept — that encouraged buyers to use the exchange to meet new suppliers — to a model that works with the existing supply chain.
Gibs said this move will enable Covisint to build supplier trust. He added that some suppliers have been hesitant to participate in industry e-marketplaces because they were afraid of the competition.
Not Going Public
Although Covisint's founders had originally indicated they planned to take the company public, those plans are now on hold due to the economic downturn, according to English.
"With respect to an IPO, the capital markets are closed," English reportedly said during a press conference in Detroit. "At the appropriate time when the board feels it's right to take Covisint to IPO, then we'll approach it at that time."
Great Expectations
When Covisint was first announced in February 2000, its founding partners — General Motors, Ford and DaimlerChrysler — expected it to be live within 30 days and predicted that it would eventually handle US$750 billion in annual purchasing.
During the months between Covisint's announcement and its launch — which was delayed until September 2000 due to technological difficulties, regulatory reviews and administrative squabbles — the B2B market soured, with many exchanges failing to live up to their initial promise.
Despite the downturn, both Gibs and Prouty believe that Covisint has an important role to play in the automotive industry.
"Covisint will not be the be-all and end-all for the automotive industry," Prouty told the E-Commerce Times. "But it will have a fairly significant role."
Hey Big Spender
AMR Research estimated that Covisint has already spent $140 million on technology licenses and service contracts, and will spend up to $350 million before it becomes profitable in two to four years.
Prouty said that the exchange's spending was not unreasonable, saying that it was "the amount you need to spend to build a large independent exchange."
Prouty believes that by the end of 2002, the exchange will be handling $40 billion in transactions.