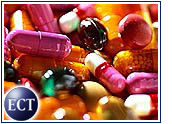 Drugstore.com (Nasdaq: DSCM) on Tuesday reported a narrower than expected loss for the second quarter of 2001 tobeat Wall Street estimates by 6 U.S. cents.
The company posted a pro forma net loss in the latest quarter of $16.8 million, or 25 cents per share, excluding one-time charges.
"Their marketing expenses have really gone down, which is a positive thing," Morningstar.com analyst David Kathman told the E-Commerce Times. "They also got their fulfillment costs down as a percentage of sales. But they burnedthrough about US$30 million in the first half of the year, and they can't keep that up if they're going to survive."
The Thomson Financial/First Call estimate for Drugstore.com was for aloss of 31 cents per diluted share.
The company's gross profit increased to 16.3 percent. Drugstore.com ended the quarter with $101 million in cash.
Drugstore.com also maintained its previous estimates for the third quarter, with losses before interest, taxes and amortization expected to fall in $17 million to $18 million range. Year-end projections also remained unchanged and in the range of $135 million to $145 million.
Word on the Street
Despite the narrower than expected loss, shares of Drugstore.com fell 5 cents by the end of trading Tuesday to close at $1.18.
Drugstore.com's ongoing stock woes may be due, in large part, to the company's projected timetable for profitability, which it reiterated Tuesday will not arrive until 2004.
"They are still so far from profitability that it's really hard to projectout three years," Kathman said. "A couple of years ago people were a lotmore receptive of talk like that, but now very few people are going to feel comfortable investing in a company that says it won't be profitable into 2004."
The Right Fit
Drugstore.com said it will be offering quantity price breaks for customers tohelp it save in fulfillment costs, as well as gain higher customerretention.
The company is also in the middle of an aggressive advertising campaignin the brick-and-mortar pharmacy stores of Rite Aid, one of Drugstore.com's partners, in an effort to promote its online prescription refill services.
"Our category is right for the Internet," said Drugstore.com president and chief executive officer Kal Raman. "We continue to add niche specialty items with high margins in our store."
Waiting for Flood
Kathman said that even though the company is heading in the right direction, it still has a long way to go, especially when it comes to gross margin. Drugstore.com predicted gross margins of approximately 16 percent for Q3 and full-year 2001.
"It's better than it was but still not a very good gross margin for aretailer," Kathman said. "It would be much easier if they could get thatabove 20 percent. I don't see that there is going to be a massivegroundswell of demand for prescriptions online."