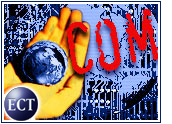 In a last-ditch effort at an image makeover last year, urban delivery service Kozmo.com changed its name to plain old Kozmo. The move did not work — within a few months, Kozmo was no more — but it highlighted the prevailing mood of that time. Even true dot-coms were distancing themselves from the Internet label.
Now, though, as e-commerce enjoys a somewhat tempered revival, the dot-com is no longer a pariah. In fact, some analysts say the name may help consumers distinguish pure-play Internet firms from their multichannel counterparts.
"If someone says their company is a dot-com now, I know what that means," Wharton School of Business professor Peter Fader told the E-Commerce Times. "It tells the consumer what to expect. It's part of the brand message."
Use Sparingly
What is different this time around is that "dot-com" it is being used more judiciously. Where there once was a rush to append the suffix to every company title, now it is found more often where it logically fits.
"There has been a realization that it's not just a phrase to toss around; it means something," Fader said.
For instance, Expedia (Nasdaq: EXPE) is appending "dot-com" to its name in its advertising tagline jingle. Doing so makes sense because the company is unlikely ever to require a real-world presence, in contrast with some early dot-coms that could have benefited from straddling the Internet and the physical world.
Still, not everyone on the Web is in a rush to embrace "dot-com" again. In fact, the roster of e-commerce company names is split nearly down the middle on the issue. For example, startup e-tailer SmartBargains, the recent recipient of a venture capital infusion, shuns the dot-com, while Nasdaq newcomer Overstock.com (Nasdaq: OSTK) embraces the tag.
Dot-Com Understood
In some cases, the dot-com notation is no longer necessary. "Amazon," for instance, has become acceptable shorthand for the e-tailer's full name. EBay also stands alone, although it is really shorthand for eBay.com.
David Rosenblatt, president of online marketing firm DoubleClick, told the E-Commerce Times that something else has changed, too: Companies now realize they must do more than add the suffix to their name in order to convey their identity and brand message to consumers.
"Being a dot-com is fine, if appropriate, but it's only the beginning of the brand-establishment process, where once it may have been the entire strategy for a company," Rosenblatt said.
Indeed, in their rush to become dot-coms, some Internet companies lost sight of the fact that people spend just a fraction of their time on the Web. A brand that extends beyond the Internet should have a name that conveys that, Rosenblatt said.
"The fundamental idea of any kind of marketing is to meet the consumer where he or she is," he added. "Most of the time, that's offline."
Homing In
Another early reason for using the dot-com name was that it was supposed to help consumers find a brand online. But that was back in the days when people often confused dot-com, dot-net, dot-org and the like. Since then, consumers have become more savvy about navigating the Web. If their favorite brand cannot be found by appending ".com" to its name, they often turn to a search engine.
"As the Web becomes more crowded, fewer people actually go directly to shopping sites other than the biggest names, anyway," Lisa Strand, chief e-commerce analyst and director at Nielsen//NetRatings, told the E-Commerce Times. "There is no evidence that a dot-com brand name makes it easier for someone to find you. The stigma may be gone, but it's also not necessary anymore."