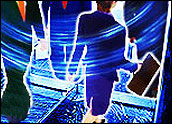 For a while, dot-com death watches were all the rage. Then even those got a bit stale. After all, how many times can you whistle with astonishment at how much venture capital a company burned through in a short time?
The shakeout is in neutral, still gliding downhill but at a much slower rate than the breakneck pace it kept throughout 2001. Occasionally, a company dies that is worth noting, though many seem to have already been through the wringer. Take Napster. How many lives did that cat have?
This week, two major grocery chains, one in Wisconsin and one in Indiana, discontinued their online services. That would have been big news a year or so ago. But now it's just shrug-worthy.
But something else is different about the shakeout in 2002. It seems that just as many new companies are inching into the e-commerce space as are leaving. And these newcomers are not just brick-and-mortar companies trying to jump on the bandwagon, but real, live e-commerce concerns.
Venture What?
SmartBargains.com isn't exactly new, but it recently closed a round of venture funding, an event that once inspired yawns but is now a true rarity.
The company also has some traditional old-economy allies on its side, serving as a pipeline to the closeout and distress merchandise that will fuel its new-every-day approach to e-tailing. But make no mistake: It is a pure play, at least for now, and that it got funded in these times is enough to earn it a welcome-to-the-club from existing retailers.
IP Who?
Other companies are less newly minted but are still new to the high-profile, high-scrutiny world of publicly traded firms. Netflix, PayPal and Overstock are the trio of dot-com IPOs that, as a whole, are doing the industry proud to date. None has gone off the map, though PayPal had some relatively high-flying moments before eBay decided to reel in the string a bit.
The others haven't fallen flat, and that in itself is a noteworthy accomplishment. It's enough to make you think they could be around for the long term.
Still a Race
And that's what's different about the new batch of companies inching into e-commerce. They realize — and how could they not — that slow and steady, while not a guaranteed recipe for winning the race, will at least prevent them from being left, panting and sweating, by the roadside while the rest of the field plods past them.
Because this is still a race. There may not be a tailwind anymore, and there may be as many uphill stretches as nice long downhills. But the prize is still a large one, and it is growing all the time, which is why new faces keep entering the field all the time.
What do you think? Let's talk about it.
---
Note:
The opinions expressed by our columnists are their own and do not necessarily reflect the views of the E-Commerce Times or its management.
---