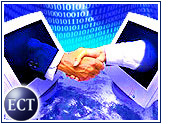 Digital Island (Nasdaq: ISLD) climbed US$1.32 to $3.32 in morning trading Thursday, after the company said it won a contract from Microsoft (Nasdaq: MSFT) to deliver more than 860 million ads per day over the MSN network.
San Francisco, California-based Digital Island, which provides Internet infrastructure services, said MSN will use its Footprint content delivery service for all its online advertisements. Terms of the agreement were not disclosed.
The deal covers ads over MSN.com Web sites, Instant Messenger and Hotmail, among other MSN properties.
"Digital Island's network operations, reporting and content delivery capabilities, as well as engineering expertise, are what we need in order to keep up with demand so that MSN can continue to drive revenue and facilitate e-commerce through online advertisements," MSN senior operations manager David Walters said.
Walters said the deal will save MSN "a significant amount of money on infrastructure and maintenance costs."
Digital Island said earlier this month that its loss for the first quarter ended March 31st widened from a year earlier, as companies spent less money on new technology.
Revenue, however, increased as top customers continued to invest in Digital Island's products. The company said it was making "substantial progress" in penetrating the financial services, media, entertainment and high-technology markets.
At the time, Digital Island said it had cut 12 percent of its workforce this year, with plans to lay off another 10 percent by June 30th.
Digital Island shares are down from a 52-week high of $57.38.