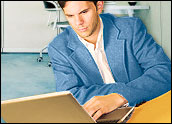 Retail's enthusiasm for e-commerce started as a tentative courtship, but has blossomed into a love affair, with businesses large and small embracing the Internet as a prime source of sales revenue. Everybody, it seems, is entering the queue, hoping to attract a growing mob of cybershoppers.
"Every e-tailer wants to be online one, page one of any search engine out there," Gartner Research Vice President Gene Alvarez told the E-Commerce Times.
Still, shouldering past the competition to get front and center on the online shopping stage takes much more than a pretty, fast moving Web site.
Paradoxically, "what's good for sales once you have the customer on your Web site is often keeping your customer from seeing your Web site in the first place," Alvarez remarked.
Bells, Whistles and Stop Signs
In the days before the bubble burst, businesses focused on Web sites chock full of spinning and animated graphics, multimedia presentations, and dynamic — often customer-personalized — site guidance. After the great fall of the dot-com era, businesses laid low, treating their company Web sites as little more than novelties.
Now that e-commerce is back in vogue, businesses are trying to crank their sites back up to their former glory. However, the old way simply won't work this time around.
"If the Web site is personalized to me, the pages are not there until I log on. That makes your Web site invisible to the search engines — no matter how many bells and whistles you have on the site," explains Alvarez. "Stop characters in the coding will also stop the search engines cold."
Crawl Before You Run
"Don't focus so much on building a dynamic Web site," Alvarez advises, "because the more dynamic the site, the more virtual pages are there that cannot be 'seen' by search sites like Google — which could leave you out of a search engine's list of search results."
The need to be visible to search engines is the first and foremost consideration in successful search engine optimization (SEO) strategies.
"Make your site crawlable," Shar VanBoskirk, a senior analyst at Forrester, told the E-Commerce Times. "A web crawler cannot catalog a site that it cannot access. This means an easy first step to search engine optimization is to make sure key content is in front of a firewall, outside of flash automations, and not written in complex or dynamic links."
Does this mean businesses have to ditch the flash from their Web sites that's meant to entice customers to buy? The happy answer is no.
"Balance dynamic with static on your site and build a site map," advises Gartner's Alvarez. "The site map doesn't actually build out the site and serve it up, but it does allow search engines to see it."
Which App Is Apt to Work?
"Organizations that are budget-conscious, have sufficient open source skills, and only need the basics should consider off-the-shelf tools such as AgoraCart, Interchange, osCommerce, MonsterCommerce or X-Cart," advises Alvarez.
"However, I don't think any of them offer site-mapping, so the need to design or hire a designer doesn't go away when you open the box," he warns.
In considering a source for SEO optimization, Forrester's VanBoskirk offers the following checklist for finding a good partner:
Look for experience in optimizing sites like yours.
Seek out an organization with tenure — at least two years in search marketing. Be aware that there are many fly-by-night players in this market.
Require a clear and repeatable process for optimization.
Obtain — and check — references of existing customers and defectors.
Blackballed to the Blacklist
Be forewarned that all is not fair in SEO. Dancing around the rules may get you kicked out of the ballroom.
"In general, [employing] 'cloaking' tactics — that is, inserting language in your meta data that is not represented on your site, or hiding text on your site in a white font — is a bad idea and can get you in trouble with search engines," says VanBoskirk.
"It also is only a short term solution," she added. "The better approach is to do the diligence of getting your site well designed and well optimized in the first place. This ensures much-longer-term returns."
Ignorance is no excuse for breaking search providers' rules of engagement; neither should ignorance interfere with getting your SEO done right.
"Even if you don't understand all the search engine provider's technical rules, find out what they are," counsels Alvarez, "and ask your site design provider how they will address these."
The Search for Dollars
Sixty-two percent of small businesses have two primary SEO strategy goals: driving traffic to their Web sites and generating leads, indicates research by the Aberdeen Group. Among mid-market online retailers that participated in a recent survey, 56 percent listed increasing direct online product sales as their primary SEO strategy.
"The biggest differentiator between small and mid-market e-tailers is strategy deployment," John Lovett, an e-commerce analyst at Aberdeen, told the E-Commerce Times. "Thirty-five percent of mid-sized businesses plan to hire external SEO agencies, whereas only 7 percent of small businesses will seek external help to develop their strategies."
Budget Breakout
Typically, small to mid-sized e-tailers break the e-commerce budget into two parts: software and design. Unfortunately, the design dollars tend to be exclusively dedicated to the coolness factor.
"Businesses tend to spend it all to look cool online and not a dime on how the site can be found," laments Gartner's Alvarez. "At least one-third of the design budget should be allocated to site discovery on things like keywords, reviewing pages for Web-crawler-friendly attributes, and the development of a site map."
"If necessary, ditch the flashy animated intro page that most viewers skip anyway, and apply that money to site discovery," he recommends.
Keys to the Keywords
Keywords are key to site discovery. They can be purchased, or sometimes provided free, from the search engine provider. They can also be developed in-house.
"We found that 51 percent of all companies are utilizing data generated internally to identify keywords and other factors that affect their external SEO strategy," says Aberdeen's Lovett. "By doing this, sites that optimize their Web sites to generate relevant results from their internal Web site search tools are also elevating the chances of discovery on external search engines. According to 74 percent of best-in-class respondents, the strategies align and operate in a symbiotic fashion."
The Lowdown on SEO How-To
To fully optimize your Web site for search engine access, Forrester's VanBoskirk offers the following steps to success:
Develop keywords continually.
Make your site crawlable. Ensure key content is in front of a firewall, outside of Flash-based automations and not written in complex or dynamic links.
Monitor site visibility. Site visibility also depends on how well other sites have optimized, as well as the changing algorithms of Web crawlers like Google or Ask.com. Smart marketers will use inexpensive tools to regularly track site position against competitors.
Increase your content and inbound links.
Use SEO for long-term goals; paid search for quick or changing needs.
Cross-reference your SEO and paid search work.
Buy paid search ads to support offline campaigns.
While the early flush of romance with online sales is long gone, the promise of bolstered bottom lines is not. Flashy Web sites can keep customers, but they rarely attract them. Without the proper search engine introduction, vendor and customer are not likely to meet — much less consummate the deal.
"Flash in the desert only works for Las Vegas," says Alvarez. "Web site flash in cyberspace is only lost in the void."