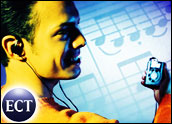 The U.S. Department of Justice confirmed this week it is investigating possible price fixing among the major recording labels for online music.
The probe is similar to action taken by New York Attorney General Eliot Spitzer, who last month continued an investigation of digital download collusion and price fixing.
The investigations are in the early stages, and a long way from any formal charges being filed, industry observers noted. However, even the possibility of price-fixing, and the potential for any resulting action against them may aid those negotiating with the industry on music downloads, including Apple.
Song Price Probe
A spokesperson for the Justice Department who declined to be named confirmed to the E-Commerce Times that indeed an anti-trust investigation into online music pricing is under way, but she would not elaborate on the inquiry or when any actions or announcements would be made.
What is certain is that the industry's four major recording labels — EMI, Sony BMG, Vivendi-Universal and Warner — are extremely sensitive to being perceived as colluding or conspiring on prices, Yankee Group Senior Analyst Mike Goodman told the E-Commerce Times.
Such a perception would have an impact on "anything and everything the music labels do," he said. "They are extremely cautious about trying to prevent the appearance of collaboration."
Goodman stressed, however, that the results of any investigation are likely a long way off.
"Right now, whether there are subpoenas or not, it's kind of just smoke and not fire," he added.
Legal Leverage
The federal and state investigations both come as the music labels are fighting a behind-the-scenes battle with Apple and its CEO Steve Jobs, who has referred to the labels as "greedy." While Apple is satisfied with the 99 cents-per-song pricing that has proved popular for its iTunes service, the recording labels have indicated a desire for more variable song pricing.
The investigations may help those, including Apple, in negotiations with the labels, which are sensitive to public perception.
"It's an opportunity … for somebody to paint them into a corner," Goodman said. "Clearly, there are buttons you can push to put pressure on them."