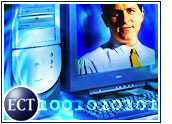 Dell's fiscal second-quarter numbers demonstrated growth in both its consumer and enterprise operations. In addition, the computer maker reported increased growth and profitability worldwide, bucking overall industry trends.
Although the company's numbers were impressive, they were not surprising to industry watchers.
"Dell is a very efficient company," IDC analyst Roger Kay told the E-Commerce Times. "Even though overall [industry] market share is relatively sluggish, it is getting pretty decent numbers on the backs of its competitors."
Global Growth
Dell posted second-quarter revenue of US$9.8 billion, a 16 percent improvement from the same quarter last year. Even more strikingly, the company said it earned 24 cents per share — a 26 percent increase over the year-ago period.
Total product shipments rose 27 percent compared with last year. Shipments shot up 46 percent in the Asia-Pacific region and 31 percent in Africa, Europe and the Middle East. Overall, Dell said it gained almost 3 percentage points of global market share.
Meanwhile, U.S. consumer shipments jumped 47 percent, with a 70 percent increase for the Inspiron line of notebook PCs.
According to Kay, Dell's success stems from the fact that it offers high-quality commodity products at lower prices than other vendors.
Lower Cost Built In
Perhaps most impressively, Dell's operating expenses in its second quarter represented just 9.6 percent of its overall revenue — the lowest ever in a given quarter.
Dell (Nasdaq: DELL) spokesperson Deborah McNair told the E-Commerce Times that the company can sell its products at a lower price point than other vendors because of its ultra-efficient cost structure.
Specifically, McNair said, Dell's direct relationships with vendors and partners account for its lower operating cost. Those relationships, in turn, create opportunities for the company to pass along savings to its enterprise and consumer customers.
Enterprise Growth Expected
Although Dell's consumer business is hot right now, Kay said, its enterprise arm should begin to kick in by year's end.
In the United States, for example, Dell posted a 23 percent increase for its PowerEdge servers in the quarter. The company said it also took two points of market share from its rivals.
McNair said Dell is focusing on the enterprise portion of its business because that is where the company predicts the majority of future growth will occur.
However, she added, Dell's client business continues to grow and is still profitable for the company.
Dell's consumer business "is not a tag-along as it is for some other companies," McNair said. "It is and will continue to be an important part of our business."