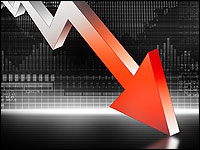 Thousands of online consumers are out millions of dollars, according to a bankruptcy filing by e-tailer CyberRebate.com made May 16th in U.S. bankruptcy court in New York.
Of the top 20 debtors listed on the bankruptcy filing by CyberRebate, a site that promised rebates of up to 100 percent on its highly overpriced merchandise, nine were individuals owed between US$79,216 and $115,650 in rebates.
"As much as I would love to be optimistic, I think consumers are going to be left holding the bag," Tom Storm, owner of the discount Web site and forum FatWallet.com, told the E-Commerce Times.
Long Island, New York-based CyberRebate's bankruptcy petition, filed May 16th, listed liabilities totaling $83.4 million — most of which was reportedly money owed to consumers for rebates never received — and assets of $24.5 million.
Scores of consumers, lured by CyberRebate's promise of a no-hassle refund, were induced to buy merchandise that was priced as much as 10 times the retail value. For instance, printers that typically sold for $150 were selling at CyberRebate for $1,500 and DVDs costing $12.99 at Amazon were sold for $169.99.
"People would max out their credit cards frequently," Storm said.
Shattered Trust
Postings on message boards reveal that some people claim they spent their life savings at CyberRebate. Storm said that though "it does seem crazy," CyberRebate had built trust by consistently sending rebate checks.
Like most CyberRebate shoppers, Joe Gladkowski began by making fairly small purchases at the e-tailer. When the checks kept coming consistently he began buying more and more. He estimates that he spent over $20,000 at the site and is owed rebates of $8,300.
"I started shopping at CyberRebate in November 1999," Gladkowski told the E-Commerce Times. "I was skeptical at first but took a chance and ordered $400 worth of mostly toys for Christmas."
Gladkowski added: "The rebates came 14 weeks later as promised. I then ordered more each time increasing the amount and basically just churning my money for product."
Presents and Profits
CyberRebate shoppers bought for a variety of reasons, with some spending thousands on presents for themselves and others buying merchandise for resale.
"I think the people that 'invested' a lot of money were trying to make some money on the deal," Kim Rowley, owner of the savings site ShoppingBookmarks.com, told the E-Commerce Times. "I belong to a newsgroup where those ladies turned around and sold the stuff at yard sales and flea markets."
Carrie Stenhjem, a CyberRebate shopper allegedly owed $8,000 in unpaid rebates, said that she shopped for gifts she would normally not purchase.
"We are thinking about what we could have spent this much money on," Stenhjem said. "We haven't had a real vacation in three years. Our children are the real innocent victims in this action."
Who Should Pay?
Although the merchandise was bought, paid for and received, some consumers feel that their credit card issuers should take responsibility for the losses incurred due to unpaid rebates, pursuant to consumer-protection clauses.
Others, like Storm, believe that even though the credit card companies have no legal obligation to make good on CyberRebate's debt, it may be in the best interest of the credit-card companies — and e-commerce — for the credit-card companies to cough up the cash.
Storm pointed out that if the credit-card companies assumed the debt, they would have a "much bigger stick" to go after CyberRebate's remaining assets.
'A Gambling Problem'
Then there is another contingent that believes that CyberRebate's shoppers should bear the losses themselves.
"These unfortunate people who patronized CyberRebate are looking for recourse where none should be available to them," online shopper Mark Drury told the E-Commerce Times.
"They have what amounts to a gambling problem, and like all gamblers who have suddenly hit the skids they see themselves as victims," Drury added.
Storm Warning
Although some CyberRebate shoppers were surprised by the company's bankruptcy, including Gladkowski, who had made a purchase through the site on May 14th, there were signs as early as last summer that the company was in trouble.
In August 2000, CyberRebate agreed to pay $40,000 and change its business practices to settle an investigation by the New York Attorney General into the company's misleading online advertising. The investigation revealed "widespread delays" in the processing of rebate checks, according to the state attorney general.
The New York Attorney General's office has now posted a notice on its Web site advising consumers that if they have believe CyberRebate owes them money, they must file a Proof of Claim with the bankruptcy court.
Model or Muddle?
Some also believe that CyberRebate knew that its business model was too good to be true long before its bankruptcy filing.
Storm said that he had heard from a former CyberRebate employee who claimed that as early as October, the company's executives knew that its business model was flawed because it relied on the premise that some people would not file and return their rebate forms.
According to Storm, the company also made money by holding consumers' money for up to 14 weeks before issuing rebates.