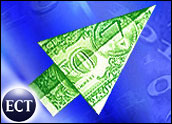 Computer Sciences Corp. (NYSE: CSC) was up 30U.S. cents at $59.70 early Tuesday, even after reporting quarterly results thatmissed analyst estimates.
Company officials also reportedly said on a conference call with investors that results for the current quarter could be at the low end of expectations.
Wit SoundView, however, reportedly reiterated a buy recommendation onCSC shares.
The El Segundo, California provider of information technology services said that revenue for the third quarter ended December 29th rose 12.9 percent from ayear earlier to $2.7 billion.
CSC chairman, president and chief executiveofficer Van B. Honeycutt said the revenue growth came mainly from governmentcontracts and commercial business.
Income before special items totaled $122.9 million, or 72 cents per share,compared with 66 cents per share a year earlier. Analysts were looking forincome of 74 cents per share before special items. Net income fell to $65.6million, or 39 cents per share, from $82.3 million, or 49 cents.
The company said that currency exchange rates, severance costs for fired employees andlower-than-expected licensing sales for healthcare software hurt resultsduring the quarter.
"We have responded to these market factors by swiftlyimplementing additional cost-containment activities," said Honeycutt.
Latest-quarter results included $84.2 million in charges for restructuringthe company's financial services business after the acquisition of MyndCorp.
"We are ahead of last year's major new business award pace, having announced$9.9 billion so far in the current fiscal year, and with a strongopportunity pipeline in both the commercial and federal markets, weanticipate closing out another year of solid results," Honeycutt said.
Honeycutt added that the value of business from government will be $22 billion over the next26 months.
"We are addressing a robust federal market pipeline of opportunities," he said. "We anticipate more opportunitiesfrom this market to develop as the federal government increasingly looks tothe private sector for commercial best practices as it emphasizes itsmodernization efforts."