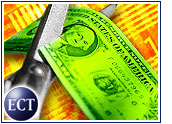 Vignette Corp. (Nasdaq: VIGN) sankmore than 40 percent in the first half hour of trading Thursday, losing 5.38to 7.12 after the e-commerce software maker lowered its projections for thecoming year and said it will consolidate operations.
Vignette said revenue for the fourth quarter totaled US$123.9 million, up203 percent from a year earlier and 12 percent ahead of the third quarter.The company said it had a "core operating loss" of $6.3 million, orbreakeven per share, but posted a net loss of $138.7 million, or 60 centsper share, compared with a loss of $5.63 million, or 3 cents, a yearearlier.
"While Vignette's long-term outlook and market position are strong, recentuncertainty surrounding the overall [information technology] spendingenvironment and customer hesitancy to make large capital expenditures hasled Vignette to reduce its financial guidance for fiscal year 2001," thecompany said.
Vignette said it expects revenue of $100 million for the first quarter, withcore earnings of a penny per share, and revenue of $500 million and coreearnings of 9 cents per share for the year as a whole.
To deal with the slowdown, the company said it will lay off an unspecifiednumber of workers and consolidate operations, resulting in a charge of $45million to $55 million to first-quarter results. The cost cuts will saveabout $100 million over the next four quarters, Vignette said.
Analysts at Salomon Smith Barney and Deutsche Banc Alex. Brown reportedlydowngraded Vignette following the news.
Vignette said it added 97 customers in the quarter, bringing its total to 1,248 users.The company also announced new or expanded alliances with Accenture, IBM Global Services,Sapient, Sun Microsystems, PricewaterhouseCoopers and Computer Sciences Corp.