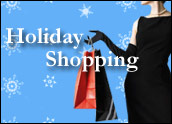 Holiday shopping this year will take place on multiple channels, with many shoppers doing research and buying online or on mobile devices.
That's according to Deloitte's 2012 Annual Holiday Survey, which found that shoppers who use multiple channels plan to spend more money than retail shoppers.
Significantly Better Customers
Omnichannel consumers — those who use multiple channels to research purchases and shop — plan to spend twice as much as consumers who shop in stores only, according to Deloitte.
Omnichannel consumers plan to spend an average US$1,585 on gifts and other holiday spending this year, the report indicates. That's compared to an average $888 that consumers who shop at stores alone plan to spend.
"There's always been a retail adage that your multichannel shopper was your best customer. Retailers have looked at some of their heavy customers and found they were loyal to the brand both in stores, online and with catalogs," said Alison Paul, vice chairman and retail and distribution sector leader at Deloitte.
"What was surprising was the difference. The person who is not shopping across all channels is going to spend half as much as cross channel. It's not just a better customer you're getting — it's a significantly better customer," she told the E-Commerce Times.
Retailers that hope to get dollars from these omnichannel shoppers need to tie their channels together. Some retailers make it easier for consumers to access information and send it to a device.
"Retailers need to be sure any offers or promotions featured in coupon circulars are also available as mobile coupons," Kendal Perez, deals expert at Coupon Sherpa, told the E-Commerce Times.
One chain, Kohl's, is releasing its Black Friday deals more than a week early.
Express is building buzz for its in-store Black Friday deals by encouraging customers to follow their social media pages for the latest deals and updates.
To facilitate stock availability, Target is using QR codes to help shoppers order out-of-stock toys from their phone while in-store, Perez said.
"Ultimately, retailers will drive customers to their stores by keeping them informed via mobile and online channels, and creating a sense of exclusivity with their offers and messages," said Perez.
Smartphones for Smart Shopping
Consumers are entering stores armed with smartphones, and they're ready to use them. Before heading to a store, 62 percent of smartphone users get locations from their handsets. Once in the store, 58 percent of consumers check and compare prices; 50 percent use their phones to get product information; 45 percent shop and browse online; 44 percent read reviews; and 42 percent check product availability in a store or at an online site.
As many as 29 percent of consumers use their phones to find discounts, use coupons, and look up sale information; 38 percent scan product barcodes to get more details on a product, and 29 percent access social networks.
"Consumers with smartphones are using them to be better informed," Paul said. "They get answers quickly. They are a better informed consumer and have access to better education for what they're buying."
While some consumers may use their smartphones in-store to do comparison shopping, many are just looking for more details or looking to their social circles for input.
"They are getting more product information; they may be checking their social media pages to see what the gift list looks like for friends or family. They may be taking pictures to get opinions," said Paul. "There are a number of ways the smartphone is getting used to enhance the customer experience."
Buying Online
As many as 45 percent of respondents to the Deloitte survey said they planned to shop online, including auction sites. That figure is 10 percent higher, compared with Deloitte's 2010 survey. As many as 23 percent of respondents said they planned to do a majority of their holiday shopping online this season.
Online retailers who offer better prices, free shipping and free returns are likely to attract steady business this holiday. Just over half of the survey's respondents, 56 percent, said they were more likely to shop from online retailers that offered free returns. A larger 71 percent said they were more likely to buy from retailers that offered free shipping.
Online shopping is not tied to the desktop. Eleven percent of respondents will shop online with a tablet this holiday season, Deloitte reported. That means that online retailers need to have their sites optimized for tablet users.
"I've heard that the tablet shopper can be one of the highest transactions you can capture," said Paul. "What we are seeing is that retailers are quickly learning that you can't just take your online site and slap it on a tablet. You have to pay attention to the imagery and production."