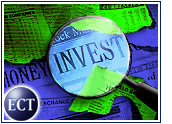 MyPoints.com (Nasdaq: MYPT) was up1/32 at 1 7/32 early Friday after the company said its chief operatingofficer resigned.
The San Francisco, California-based company, which operates online customer-loyaltyprograms, said president Layton Han will take responsibility for thecompany's day-to-day operations after COO Chaz Berman leaves "to pursue otherinterests."
MyPoints is continuing to look for a new chief executive to replace SteveMarkowitz, who resigned in November as the company reported a loss for the thirdquarter.
MyPoints said it is "considering several highly qualified candidates," andexpects to announce a new CEO in the first quarter of 2001.
The company said making the president responsible for operating duties"further streamlines its management functions to provide better focus on itscore business."
MyPoints reported a third-quarter loss before charges of US$12.8 million, or36 cents per share, compared with a loss of $8.3 million, or 40 cents, inthe year-earlier quarter. Revenue rose to $14.5 million from $7.0 million.After charges, the company lost $23.4 million, or 66 cents per share,compared with a loss of $9.8 million, or 47 cents.
MyPoints had expected the loss, saying it was suffering the effects of asluggish environment for Internet advertising. The company also laid off 120employees, or 29 percent of its workforce, in a reorganization aimed atsaving $8 million per year.
The company said it had $125 million in cash, cash equivalents, andshort-term investments on hand at the end of the quarter, giving it"sufficient capital resources to grow and achieve profitability."