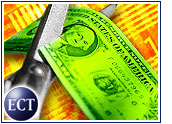 Internet loyalty program marketer MyPoints.com (Nasdaq: MYPT) announced a third-quarter loss Thursday and said Steve Markowitz will step down as chairman and chief executive officer at the end of the year.
MyPoints reported a third-quarter loss before charges of $12.8 million (US$), or 36 cents per share, smaller than the 39 cents per share predicted by analysts. In the year-earlier quarter, the company lost $8.3 million, or 40 cents.
The San Francisco, California-based firm warned last month of the expected loss, saying it was suffering the effects of a sluggish environment for Internet advertising. The company also said it has laid off 120 employees, or 29 percent of its workforce, in a reorganization aimed at saving $8 million a year.
The report indicated a net loss of $23.4 million, or 66 cents per share, compared with a loss of $9.8 million, or 47 cents. Gross margin edged up to 71 percent of revenue in the latest quarter from 69 percent in the 1999 third quarter.
Revenue rose to $14.5 million from $7 million in the year-earlier quarter.
Regaining Momentum
MyPoints said it had $125 million in cash, cash equivalents and short-term investments on hand at the end of the quarter, giving it "sufficient capital resources to grow and achieve profitability."
"The company is actively taking steps to regain its momentum," said chief financial officer John Steuart. "We are focusing our sales efforts on our most popular products and closely monitoring our pricing structure to ensure that it remains competitive."
Revenue during the latest quarter was also negatively affected by "the late adoption of advertising rates that better reflected industry trends," and by a reliance on less lucrative contracts than in the past, said Steuart.
Han Named President
MyPoints said its new president will be Layton Han, senior vice president of corporate and business development and the company's first CFO.
A special committee of directors, aided by executive search firm Heidrick & Struggles, will search for a new CEO to replace Markowitz.
"I believe that the company needs a chief executive experienced in taking high-growth companies to the next stage of development," said Markowitz, who will remain a director.
MyPoints said it expects to complete the integration of recently acquired online marketer Cybergold during the first quarter of 2001. Most of the layoffs announced last month relate to the Cybergold acquisition.
Shares Fall
MyPoints shares were down 3/32 at 2 9/32 in early trading Friday; the results were released Thursday after the close of trading. The company's shares are down from a 52-week high of 97 11/16.
MyPoints said it remains one of the most popular sites on the Internet, ranking just behind Amazon.com among popular retail shopping sites in September. MyPoints has 16 million members in its database, and offers a range of services to help companies attract and retain customers.