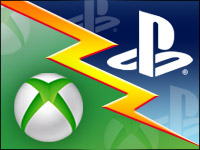 The battle of the video game consoles has been going on for some time already, but this year it promises to reach new heights. Longstanding competitors Sony and Microsoft are both expected to release brand-new consoles in November, meaning holiday shoppers will have to make some difficult decisions.
From a technical standpoint, the consoles are fairly comparable. Both will play Blu-ray discs, support WiFi 802.11n and come with a 500GB hard drive, for example.
On price, however, they are not. Microsoft has put a US$499 price on its Xbox One console, while Sony's PlayStation 4 comes in at a full $100 less.
What will be the deciding factors for buyers, and which console will win? That's the million-dollar question in this multibillion-dollar market.
"I think it's good for the industry and the traditional console space," Eedar analyst Jesse Divnich told the E-Commerce Times. "These two mega-consoles going up against each other adds an additional level of excitement to the industry. Ultimately, I think this is a win-win, not only for the consumers but for the console manufacturers as well."
A Long History
This is the first time that Sony and Microsoft will release their next-generation consoles in the same calendar year, let alone the same month.
For a little history: Sony released its PlayStation 2 console in 2000 a year before Microsoft's Xbox arrived on the scene. Microsoft led the next console cycle with the release of the Xbox 360 in 2005, a full year before Sony's PlayStation 3. The Sony console was also more expensive.
This time around, the order and the price are both reversed. Sony is expected to release its PlayStation 4 on November 13, followed by the Xbox One on November 21.
The Price Proposition
While consoles are notoriously sold at a loss to be made up through the sale of games, it is rumored that Sony dropped its camera from the console in order to release it at a lower price. A few strategies might help Microsoft make some headway, however.
"I have a theory about Microsoft pricing," Peter Warman, CEO of UK-based market research firm NewZoo, told the E-Commerce Times. "They might have a big trick up their sleeves. The theory could at least explain the pricing in a different way than just the cost of making it and the so-called value of its specs."
Possibilities include plans to introduce a new Xbox 360 for $199 and an Xbox One bundle that includes an Xbox Live Gold account, ultimately lowering the price of the console to $349, Warman suggested.
Otherwise, Sony has the upper hand.
"When it comes to the consumer-decision making process, pricing and value are important," Divnich said. "Sony has a great advantage because they are $100 cheaper."
Title Exclusives
Price is undoubtedly important, but another way console manufacturers lure core gamers is through title exclusives, which are games that are available only on one platform.
"On Microsoft's side, they have more exclusive titles and strong support from third-party developers," said Divnich. "Microsoft in North America has a fairly dedicated fan base."
While system specs can be a strong factor for decision-making, exclusive titles can tip the scales.
"In the end, software drives hardware sales," said Sheldon Carter, studio head at Digital Extremes, a game developer that will release its upcoming title Warframe as a PlayStation 4 exclusive launch title.
"Exclusives are definitely a big part of that picture, and I think as we get closer and closer to launch, that's going to be a battleground that we'll hear lots from both Sony and Microsoft on," Carter told the E-Commerce Times.
"Sony knocked on our door early about having Warframe on the PS4 at launch," said Carter. "Being a free-to-play game certainly helps broaden their array of launch titles on day one of launch, since everyone can access them right away when they purchase their PS4."
While franchises, or continuing series, help increase interest, a new console is a ripe platform for new titles to break new ground.
"I always see console launches as a place ripe for new titles and franchise introductions," Carter said. "I think gamers want new experiences from their new hardware.
"There are always going to be the evergreen blockbuster franchise games that don't care what generation or platform they are on, but I think, especially at launch, new IP can really thrive," he added.
The Third Console
Nintendo, of course, has a year on both manufacturers with its Wii U console, which was released last November. Nintendo has taken a different path, though, and is seen as less of a competitor to Microsoft or Sony than it was in the past.
"I expect the Wii U will still appeal to a family demographic and people who are crazy for Mario or Zelda, but overall they will miss their targets because they will not succeed in drawing the more core-oriented gamer towards their console," Warman said.
That difference in focus has been noticed by others as well.
"We do ultimately think that Nintendo is targeting a different set of consumers," said Divnich. "The way in which you play a Nintendo game is very much different. Nintendo focuses more on family activities."
Ultimately, Nintendo's approach toward its console "diverged from the core gamer," according to Divnich. He sees overlap, however, between Nintendo and other consoles: "There's a big chunk of the core audience that owns a Nintendo Wii."
Some publishers, in fact, are moving support to Sony and Nintendo for top-tier games.
"Since EA dropped their FIFA release on the Wii U, other publishers are thinking about doing the same," said Warman. "The Wii U will be primarily a device offering Nintendo IP games. Still loads of fun, but no serious contender for the core audience for whom Sony and Microsoft will go to battle.
'A Lot of Xbox 360 Sales'
The Xbox One and Sony PlayStation 4 will clearly be hot-ticket items this holiday — accompanied, perhaps to a lesser extent, by Nintendo's Wii U — but existing systems may see interest as well, as there are some new titles in the works.
"I actually expect a lot of Xbox 360 sales around the holiday season as publishers remain to develop their new titles for this platform," Warman said. "The price of $199 looks good next to $399 for the PS4 and $499" for the Xbox One.