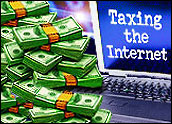 The U.S. Senate, echoing a similar bill passed by the U.S. House of Representatives last week, has approved an extension to a moratorium on state and local taxes on Internet access for another seven years. The House's version, however, calls for a four-year ban. The original ban, first imposed in 1998, is set to expire Nov. 1.
Both the House and the Senate have been quibbling over making the ban permanent. The moratorium would focus only on the taxation of Internet services — the existing ban, as well as the bills passed by the House and Senate, don't cover other angles like sales tax on goods purchased online.
Even though Internet access taxation may not be as hot a topic as retail taxation, the issues are more complicated than might first appear. It starts with lobbyist groups like DontTaxOurWeb.org, which is a coalition of companies and trade associations dedicated to keeping Internet access services free of all federal, state and local transaction taxes. DontTaxOurWeb.org wants the federal moratorium to be permanent, and it is backed by industry heavyweights like Amazon.com, AOL, AT&T, eBay, Google, Qwest, Sprint, T-Mobile, Verizon, Yahoo and many others.
On the other hand, the National Governors Association, which has a hand in state taxation issues, thinks a permanent ban may be premature. The main problem is that the original ban's definition includes a ban against taxing any service that's bundled to the delivery of the Internet service itself. So VoIP telephone services, for example, that are bundled with Internet service are currently free of taxation. Customers who previously paid taxes for traditional phone services but have since switched to VoIP phones would essentially skate by those taxes altogether.
VoIP on the Rise
"There's a variety of taxes and fees that are charged on phone bills — state, local and federal, as well as FCC mandates and charges, and the universal service fees, and everything that helps fund people who can't afford a phone," Jeff Kagan, a telecommunications industry analyst, told the E-Commerce Times.
"As VoIP gains ground in market share, these issues become more important because if a certain percentage of traffic moves to non-taxable areas, then the system could break down," Kagan explained. "That's why I don't think it's going to be forever. I think it's just a matter of time before we start charging taxes — it's just a matter of when and how. I think it would be great, as a consumer, to not have to pay taxes on any of it, but we don't want the system to break down. That's the give and take."
When and How
U.S. Senators Tom Carper (D-Del.) and Lamar Alexander (R-Tenn.) issued a joint statement on the Senate's vote Thursday.
"This agreement is a common sense victory both for Internet users and for state and local governments," the senators noted. "It continues the moratorium on Internet taxation, avoids unfunded federal mandates on states and cities, updates the definition of Internet access, and allows Congress to revisit the issue after seven years."
Both the House of Representatives and the Senate must now hammer out the differences between the two bills and get a single bill to President George W. Bush to sign into law. The timing on that, however, is still up in the air. For his part, Bush is ready for Congress to get the job done.
"They [Congress] have yet to make the Internet tax moratorium permanent, or even extend it — even though this moratorium is set to expire in just a few days," Bush said in the Roosevelt Room of the White House today. "The House and Senate have both passed temporary extensions but have not agreed on a final bill. I urge Congress to keep the Internet tax-free — and to get a bill to my desk that I can sign."