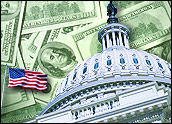 The U.S. House of Representatives voted 402 to 0 Tuesday to extend the ban on Internet service taxes another seven years, adopting the same time frame passed by the Senate Friday.
The House previously voted to extend the moratorium for only four years. The original ban was first imposed in 1998 — then extended twice — but it is now set to expire Nov. 1, which is the deadline that has prompted the action in Congress during the past two weeks.
Both the House and the Senate have spent months fighting over whether to make the ban permanent. President Bush, a supporter of the Internet service tax moratorium, just last week chided Congress for not getting a bill to his desk to sign — the president must, of course, sign the bill before it becomes a law.
In addition to extending the time frame in which Internet service cannot be taxed by federal, state or local governments — with the exception of a few tax laws grandfathered in — the bill contains wording to ensure that services that are delivered via the Internet — such as VoIP, for example — can be taxed just like existing traditional telecommunications services are taxed today.
Access Is Safe
Anna G. Eshoo, a House Democrat from the 14th Congressional District of California, was one of only two representatives to vote against the House of Representatives earlier bill that called for a shorter four-year extension.
"No one should have to pay a tax just to access the Internet," Eshoo said. "Extending the moratorium for seven years is an important step forward to bolster innovation and enhance broadband policy in our country," she added.
The lobbyist group DontTaxOurWeb.org, which is a coalition of companies and trade associations dedicated to keeping Internet access services free of all federal, state and local transaction taxes, has been pushing to make the federal moratorium permanent. The coalition is backed by leading Internet-focused companies like Amazon.com, AOL, AT&T, eBay, Google, Qwest, Sprint, T-Mobile, Verizon, Yahoo and many others.
'Strong Compromise'
"It's a very strong compromise, we fully support it, and we're pleased with how it turned out," Broderick Johnson, executive director of the DontTaxOurWeb.org coalition, told the E-CommerceTimes.
"There are very important policy changes that will protect the Web from taxation. Even though all along we hoped to get this permanent, we were hopeful to get the longest number of years short of that," he added. "Instead of splitting the difference, the leadership of the House recognized that this was an opportunity to have the longest extension of the moratorium, by far, that has ever been enacted, so we appreciate that."