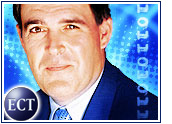 Compaq (NYSE: CPQ) dropped US$1.99 to $18.66 inmorning trading Tuesday, after the computer maker reported a drop infirst-quarter net income, warned of more weakness in the second quarter andannounced plans for further cost cuts.
Company officials reportedly told investorson a conference call that they plan to eliminate 2,000 more jobs thanpreviously expected, for a total of 7,000 cuts.
Prudential Securities reportedly slashed its investment rating on Compaq tohold from strong buy after the report.
"Given the difficulties in this market environment, our first-quarterperformance reflects solid global execution," Compaq chairman and chiefexecutive officer Michael Capellas said, adding that the second quarter will"continue to be challenging."
Compaq reported net income for the first quarter ended March 31st of $78million, or 5 cents per share, including a $249 million restructuringcharge, compared with income of $296 million, or 19 cents, in the sameperiod last year.
Income from operations, before the charge and other items,came to $200 million, or 12 cents per share, largely in line withexpectations.
Revenue slipped to $9.2 million from $9.5 million, as a 17 percent increasein overseas revenue somewhat offset weak sales of personal computers in theUnited States, the company said.
Capellas said that Compaq is looking at further ways to cut costs, including"additional reductions in our structural costs, permanent inventoryreductions, aggressive pricing, increased investments in innovation andbroadening our global services."
Capellas added: "We are confident that these actions will strongly position us for improved results in the second half of this year and beyond."