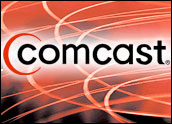 Comcast announced late Wednesday that it will launch faster broadband Internet service speeds over the next few weeks to more than 10 million homes and businesses.
The new service will give Comcast subscribers access to speeds of up to 50 megabits per second in parts of New England, Boston, Philadelphia, Minneapolis and St. Paul, and New Jersey.
The upgrade will also enable Comcast to double the broadband speeds of its entire customer base at no extra charge to subscribers.
The speed boost comes at a time when competitors such as Verizon and AT&T are investing huge sums to increase the speeds of their networks.
Verizon has spent billions building a fiber-optic network; its FiOS broadband Internet service allows direct connections at speeds of up to 50 mbps.
AT&T's U-Verse system brings fiber to central nodes, while copper cabling delivers the service into each consumer home.
Comcast, Verizon and AT&T
Comcast and Verizon offer very similar high-speed Internet service at different speeds and price points.
Comcast's Extreme 50 plan costs US$140 per month and gives users 50 mbps downstream speed and 10 mbps upstream speed. The fastest FiOS option costs $140 per month and gives users 50 mbps downstream speed and 20 mbps upstream speed.
The lower-tier broadband plans at both companies are virtually identical in terms of speed and pricing. AT&T, on the other hand, currently offers maximum broadband speeds of only 1.5 mbps upstream and 10 mbps downstream.
50 Now, 100 Later
Comcast's souped-up network will enable broadband speeds of up to 100 mbps, but it could be a while before the Philadelphia cable giant rolls it out.
"The demand isn't there yet for 100 mbps, and the price point is pretty high at this point," David Joyce, an equity analyst with Miller Tabak + Co., told the E-Commerce Times.
Still, that demand could crop up sooner rather than later.
"Making the benefit of 100 mbps align with the [higher] cost to consumers is key," Sally Cohen, a broadband analyst with Forrester Research, told the E-Commerce Times.
Customers seem to always find a way to use a significant amount of available broadband capacity when ISPs roll out faster-than-ever network speeds, she noted.
"Verizon has been quick to point out that in areas where they've rolled out FiOS and brought in bandwidth that was way beyond what was previously available, the customers have found ways to use it," Cohen said. "Maybe not at the max capacity, but they'll find ways to enjoy the bandwidth available."
For now, Comcast is playing catch up to Verizon's FiOS network, but that could soon change.
"Comcast is slightly behind the FIOS offerings, but it's also pretty rapidly catching up," Miller Tabak's Joyce said. "With the 10 million homes by the end of the year, they should overtake Verizon."
As for AT&T, the telecom giant's broadband network is slower than Comcast's and Verizon's because it still relies heavily on copper wire instead of fiber-optic wire.
"I still think [AT&T's] reasoning for sticking with copper and not going to fiber to the home is suspect," Joyce said.
Metered Broadband
In a move earlier this month that now seems to contradict Wednesday's announcement of higher broadband speeds, Comcast established a monthly cap on broadband usage.
Starting Oct. 1, Comcast residential customers were limited to 250 gigabytes per month. Customers who violate the new policy receive a telephone warning from Comcast not to do so again. Second-time violators will have their service suspended for one calendar year.
Most customers use an average of two or three gigabytes per month to send e-mails, download music and video files, and upload digital photos, according to Comcast.
"The cap makes you think twice about this announcement about higher broadband speeds," Forrester's Cohen said. "This is the first step toward metered broadband."