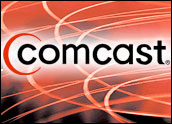 Cable giant Comcast's profit rose 80 percent in the first quarter, the company stated. One-time gains aided results, and demand for the company's triple play bundle of Web, TV and calling services remained robust.
The Philadelphia-based company's revenue for the quarter hit US$7.38 billion, a 32 percent increase when compared with the year before. Income was $837 million, or 26 cents per share, up from $466 million a year ago. The gains included a $300 million windfall from the dissolution of Texas and Kansas City Partners, a former cable system partnership with Time Warner Cable.
Still, Comcast customers are embracing its bundled offerings and driving monthly subscription revenue higher as a result, the company stated.
"Triple play really is changing the company," CEO and Chairman Brian Roberts said. "It's the gift that keeps on giving. We are seeing an acceleration in America's transition to digital."
Basic Cable Users
Comcast even saw growth in its number of basic cable subscribers — a number that had been dropping recently — suggesting that customers are buying cable to gain access to additional services. Existing customers are also spending more each month, thanks in part to strong growth in video-on-demand purchases.
Despite the strong results and a record-setting day on Wall Street, Comcast saw its stock fall in afternoon trading Thursday, losing about 3 percent to $27.19 per share.
Phoning It In
Comcast has made it clear it intends to play a major role in the video-on-demand revolution and in the Internet entertainment space in general. Last year, it struck a deal to license Disney content for on-demand distribution and it recently acquired online ticketing site Fandango.
On-demand services joined with other premium services, such as DVR services and HDTV feeds, to help boost the average monthly subscription from around $55 to more than $60 year-over-year. In fact, Comcast's pay-per-view revenue has grown by 20 percent or more during all of the last nine quarters.
Digital phone calling services are also growing as a key part of the company's revenue base, with sales rising 88 percent to more than $350 million. The company's Digital Voice product will pass the $1 billion revenue mark this year, said CFO John Alchin.
Comcast still has room to grow. Its high-speed Internet service — which brings in average of $43 per month in subscription costs — is currently being used in about 26 percent of the homes eligible to for the service. The Digital Voice product is used in only 7 percent of the available homes.
One Play Short?
The first quarter results come after a strong fourth quarter from Comcast, which has emerged as one of the main players in the looming face-off between the cable and telecommunications industries, which have moved onto each others' turf by adding services government regulations have previously barred them from offering.
"The triple play is working," telecom analyst Jeff Kagan told the E-Commerce Times. Still, there is considerable risk of being upstaged by phone companies — notably Verizon and AT&T — that can offer a four-play bundle by adding wireless services to high-speed Internet, TV and voice.
"Currently we see a marketplace where customers use both the cable television and the telephone company," Kagan added. "Moving forward through the next few years, that will change dramatically. As both competitors offer the same complete bundle of service, customers will choose one and say goodbye to the other. In that world, the cable television company and the local telephone company may have half the customers they currently have, but the customers will be buying the complete bundle of services."