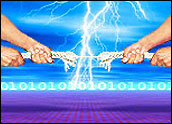 In the midst of social networking zeitgeist, many advertisers find themselves torn. The lure of the young demographic that flocks to sites such as MySpace and FaceBook is powerful, but the risks many. The recent case of a 16-year-old being lured into traveling to the Middle East is just the latest example of the potential downside of such sites.
The draw is more than just the ability to tap into an environment where viral marketing could take over and help vault a product or service or brand to new heights. Those young consumers are also primed for the creation of lifelong brand affinity, the type of long-term relationships that could benefit a company for years to come and offer true return on marketing investment.
Targeted Marketing
To tap into a slice of that 17- to 24-year-old demographic, some advertisers are focusing on marketing specifically to college students, rather than just the age group itself, with the Web sites of college newspapers, the sites of alumni associations and other college groups offering a strong alternative to the likes of MySpace.
"It depends on the advertiser and what their goals are," Dina Pradel, General Manager of Y2M, a Boston-based marketing agency specializing in reaching college students and recent graduates, told the E-Commerce Times. "There are some who are very careful about their brand and they prefer to be in a well-lit neighborhood, like a college newspaper site. They want to make sure they're not going to appear next to photos and a narrative about last night's kegger. Others are more edgy and might not mind the association with a social site."
Pradel said that's the main lesson advertisers need to learn as they grow more aware of the opportunities that exist to reach young consumers online: The medium and the message still have to fit with one another.
"People hear about a new place where kids are hanging out and they want to be there immediately," she said. "But the fact is you need to consider what people are doing there and whether that fits with your message."
Virtual Coffee Shop
Pradel equates MySpace to a casual social interaction, akin to getting together with friends in a coffee shop. In such a setting, users are unlikely to be receptive to a marketing message from, for example, a financial services firm. On the other hand, a music label might find such a setting the perfect place to be.
On the other hand, users visiting a networking-based site focused on careers, such as LinkedIn, might be far more open to a pitch for a credit card.
She also believes that one of the best ways to reach college students and new grads is through college newspapers, hundreds of which now have Web sites that enable alumni to keep tabs on campus after they graduate.
Another advantage of college media over social networking sites may be permanence. Analysts note that in the social networking space, Friendster quickly gave way to MySpace.com, which in turn has seen FaceBook and other newer sites start to gain.
Top social networking sites are powerful tools for trying to create buzz, Yankee Group analyst Nitin Gupta said. The sites are best suited for certain types of marketing messages, especially those such as music, TV and movies, that can be the subjects of viral messages.
"The real potential there lies in leveraging the connectivity of the sites and using them to form communities around products, media or services to really be in contact with your users," Gupta said. "That is not easy for companies to figure out how to do."
There's little doubt social networking has found a willing audience among college students as well, a group that has abundant free time and often free and unfettered access to high-speed networks.
Social networking is "verging on an obsession" among the college crowd, said eMarketer analyst Debra Aho Williamson. "On many college campuses, this form of networking has become such a mainstay of social life that students sign up even before they start their freshman year."
Williamson said fickleness is an issue, with students likely to be willing to change to a new site when a hipper alternative comes along. "That's one of the downsides of the viral nature," she added.
Right on Target
The benefit of going directly to college media is the ability to better filter who's being reached with a market, said Pradel. "A lot of companies are starting to go younger, even looking at the eight- to 13-year-old market as a way of developing brand loyalty," Pradel said. "It probably doesn't hurt to expose younger consumers to a brand, but they are not in the same buying position."
Not only are college-aged consumers ready to make major and often complex purchases — many for the first time in their lives — but they are also a desirable demographic. Research shows college graduates make US$1 million more each, on average, over their lifetimes, than their peers who do not graduate.
"When young consumers make major purchases such as life insurance, it's the kind of thing they keep for a long time," Pradel said. "It's a market of educated consumers with high lifetime earning potential."
Y2M's most recent snapshot of the college media market underscored the opportunity, with nearly 70 percent of college students reading the online version of their student newspapers at least twice per month. Those online versions represent a great avenue for recent graduates to keep tabs on their campus as well.
"The college market is pretty easy to reach and if the message and the medium match, it can be a powerful combination," said Pradel.