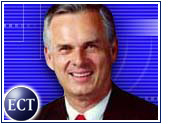 In yet another high-profile controversy over intellectual property abuse on the Web, the City of Los Angeles is threatening legal action against a Web site that sells apparel emblazoned with the Los Angeles Police Department (LAPD) emblem.
In a four page letter, City Attorney James Hahn gave the owner of Los Angeles Product Distributions, Wayne Tidwell, an ultimatum: Either take his LAPDGear.com site down and turn the domain name over to the city or face legal action.
Tidwell's site, operated through Yahoo! Stores, sells T-shirts, coffee cups, mouse pads, and other merchandise bearing the LAPD logo and the names of divisions within the organization.
Hahn's letter, dated May 26th, gave Tidwell seven days to respond. However, a spokesman for the City Attorney's Office told the E-Commerce Times that as of Friday, June 2nd, Tidwell had not responded.
In published reports, Tidwell claims to have not received the registered letter.
Trademark Infringement
The LAPD trademark has been used by the police department since 1861 and "is known throughout the U.S. and internationally," according to Hahn. His letter to Tidwell reads, "LAPD is clearly a famous, strong, and well-recognized mark and the City owns all rights to it."
The letter continues, "Your and Los Angeles Product Distributions' use of the LAPD mark to operate the LAPDGear.com Web site and to sell clothing constitutes trademark infringement and tarnishment and dilution of the LAPD marks, as well as domain name hijacking and unfair competition."
There is a disclaimer on the LAPDGear.com site that says, "This site is DEFINITELY not endorsed by the Los Angeles Police Department."
The city is also worried that the LAPDGear.com site will take sales away from the Los Angeles Police Department Protective League's site.
Exploiting Scandal
What is particularly bothersome to Hahn and the LAPD is that Tidwell is taking advantage of the Rampart Division police scandal, in which several officers have admitted making false arrests and planting evidence.
Available for sale on Tidwell's site is gear purportedly used by Rampart Division officers during training. Other T-shirts available for sale include the LAPD logo joined with slogans such as "77th Street Eat Their Dead" and "Welcome to Hell."
In addition to being offered for sale on the site, LAPDGear.com merchandise was sold at a Washington D.C. police exposition by LAPD Officer Erik Solter.
Cybersquatting
Although Tidwell registered LAPDGear.com through Network Solutions, Inc., Hahn contends that the issue is nothing more than cybersquatting and that the name should be turned over to its rightful owner, the Los Angeles Police Department.
Cybersquatting, or registering the name of a well-known company or celebrity with the intent to hold it hostage, is illegal under the Anti-Cybersquatting Consumer Protection Act.
The city says it will not bargain or pay to get the LAPDGear.com domain name and is requesting that Tidwell remove all meta-tags that can be used by search engines to index the LAPDGear.com site.
Julia Roberts Weighs In
In another high profile cybersquatting case, actress Julia Roberts won the rights to Juliaroberts.com in a case heard before the World Intellectual Property Organization (WIPO), a UN tribunal that coordinates international patents, copyrights and trademarks.
The WIPO ruled on Friday that Russell Boyd of Princeton, New Jersey — who had purchased the name and was trying to sell it on eBay — had "no rights or legitimate interest in the domain name."