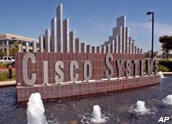 Cisco will invest nearly US$1.6 billion on information and communications technology in the United Arab Emirates (UAE) over the course of the next five years, the company announced Monday. The network vendor will open a new regional headquarters in Dubai in April with a second office set to open in Abu Dhabi in June.
"This investment demonstrates our continued long-term commitment to the United Arab Emirates. The vision of the country's leadership has allowed it to transition quickly to a 'connected' world. We look forward to continued collaboration working closely with the government to help support and realized the nation's ambitious development and growth vision," said Paul Mountford, president, Emerging Markets at Cisco.
Desert Networking
The investment will create some 650 new jobs at Cisco by December 2010 as the company expands its operations in the UAE with its two new offices. The regional headquarters in Dubai will be home to one of Cisco's most advanced customer briefing centers and will serve as a showplace for the networking giant's latest advances in Internet Protocol networking technology, such as Cisco TelePresence.
The new Dubai office will continue to provide Cisco-related real estate solutions for business users across emerging markets, the company said. The operations will draw on customer experiences in the region to help support continued solutions developed collaboratively at a global level.
The Abu Dhabi location will serve the company's growing customer base in the capital city.
The financial outlay will also include an expansion of Cisco's Networking Academies. There are currently 39 Academies up and running in the UAE whose goal is to develop an educated local pool of talent that can build and manage sustained networks in the future.
Cisco said it will also fund up to $400 million in the UAE over a five-year period through third-party banking partners and the possible establishment of a financial services company in Dubai. The funding might also include inventory financing for channel partners in the UAE as well as financing for Cisco equipment, software and services by the company's end-user customers.
Local Investments
Cisco's decision to invest heavily in the UAE is part of a long-term plan that began in 2005 when the company announced that it would spend $1.1 billion in India, a country in which Cisco has had a presence since 1995. Over the course of three years, the money would be used to add some 2,800 workers to the 1,400 people already in its workforce there and also create a global research and development center in Bangalore. Seven other offices opened in other regions of the country.
The bulk of the investment — $750 million — was designated for research and development activities including training, development and staffing. The remaining funds — $350 million — were used to create leasing and other financial solutions for Cisco customers and partners, customer support operations and invest in India-based start-ups.
The UAE investment plan is similar to one Cisco announced for Saudi Arabia in April 2006. Under that plan, currently entering its second year, the networking company pledged to invest $265 million to:
Increase its staff from 70 to 600 employees;
Provide leasing and other financial solutions to Cisco customers and partners;
Develop a Technology and Entrepreneurship Innovation Center to present the positive impact of technology on productivity across various vertical markets;
Provide equipment, training, education and support to network 2,000 homes in Saudi Arabia's underprivileged communities;
Build more than 100 Networking Academies;
Establish a "Netversity" to provide public education organizations with advanced business and technical training for young people in Saudi Arabia.
"Cisco is at a point now where it has really deep commitments to various emerging nations and it has a lot of different academies, different channel presence, and technology centers throughout the world," said Robert Whiteley, a Forrester Research analyst, who has worked with Cisco developing their plan. "But what it really did a couple of years ago was to try and put essentially a proof-of-concept in India. They really built up their Indian presence so that it was more than just your average presence in country. They wanted that to be a center of excellence where a lot of intellectual property was created, where there were a lot of the actual leaders within Cisco, and so on."
Act Globally
Investing in India has been very successful for Cisco, Whiteley told the E-Commerce Times, and has given the company the ability to act and think as a global entity.
Cisco, he said, will not try to entirely replicate their experience in India, but the company does want to increase its presence in countries with the "right" profile.
"By that I mean ones that are investing heavily in their infrastructure, especially their communication infrastructure. Ones where there is a lot of economic growth and ones were they can establish what [Cisco CEO John] Chambers likes to say is a partnership with the actual government. Just like a CIO might decide to partner with Cisco on an enterprise, he believes the same can be said of government level officials who are trying to partner with Cisco to build out Internet technologies or broadband infrastructure," Whiteley explained.
"The UAE absolutely [meets those requirements]," he added. "And what they'll do is go in and invest heavily in the human capital. And what this does is feed into Cisco's overall plan of flattening the structure."
Over the past few years, Chambers has been trying to change the environment at Cisco from a very hierarchical one to an environment in which decisions are made collaboratively and includes groups and councils that are able to make decisions, Whiteley noted.
"[This has enabled Chambers to] do a much better job of delegating, but also the company is able to tackle many more projects and tackle many more strategies than he would alone. And that was ultimately what was so successful in India. They were able to shift the economics of how they make decisions, how they make acquisitions, how they enter new markets. And what we're seeing in the UAE is one of the first fruits of that labor," he said.
Now that Cisco has the right decision making structure, it can create deeper levels of investment and points of presence in certain nations.
"They can get these off the ground and have them make big contributions to the company," Whiteley concluded.